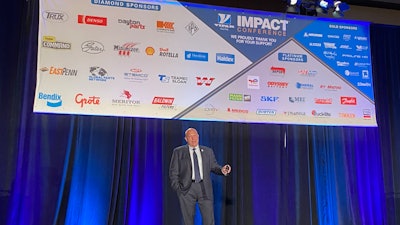 After two long years away, VIPAR Heavy Duty's IMPACT Conference returned this week with a hybrid event at the JW Marriott in Marco Island, Fla. In its kickoff general session Monday, the team at VIPAR Heavy Duty wasted little time diving into the changes the organization has experienced since its last meeting in Texas in 2019.
COVID-19 and its endless business disruptions have unquestionably challenged VIPAR Heavy Duty and its stockholders, but the last two years also have enabled the group to assess, analyze and improve its operations. And with the supply chain under more scrutiny than ever before, President and CEO Chris Baer says VIPAR Heavy Duty's organizational updates have made the company more agile and essential to North American commerce.
"Everyone in this room, your stock has gone up over these last two years," he says. "We all know well the importance you play in keeping business moving."
Yet while Monday's session was expectedly heavy on supplier relations, it wasn't the only area of emphasis.
Chairman Bill Nolan, president of PBS Truck Parts and CommPar, says VIPAR's stockholders also tasked the group with a substantial number of initiatives pre-COVID to help maintain 'True Group Value' that are beginning to come to fruition. From updating the group's order management system and strengthening its Global Parts Network business, to further development of its PARTSPHERE Digital Ecosystem, VIPAR Heavy Duty has invested heavily in resources and technology to enable its members to remain competitive in the aftermarket for decades to come.
"We will change and continue to adapt to whatever is coming toward us," he says.
[RELATED: Industry continues to contend with supply, labor issues]
Among the changes highlighted Monday was the group's proactive response to the ongoing parts shortage crisis. Vice President of Program Management Larry Griffin says VIPAR Heavy Duty has dramatically increased lines of communication with existing vendor partners, onboarded new vendors after careful evaluation and developed an in-house supplier update tool for stockholders to stay abreast of product news and delays. He also notes that while fill rates remain historically low, VIPAR Heavy Duty's efforts have enabled its nearly 700 points of sale to keep pace with and/or exceed inventory levels seen by dealers and other aftermarket competitors.
Group health and cohesiveness also was addressed during Monday's session. Vice President of Business Development Jim Pennig says VIPAR Heavy Duty has added two stockholders in 2021 and is up nearly 9 percent in total storefronts the last five years. Pennig attributes the footprint increase to VIPAR's investment in succession planning and exit planning educational programs designed to encourage retiring stockholders to consider in-network transitions. He says while the group continues to look for potential new stockholders, it also is committed to working with existing members to ensure VIPAR's network remains robust as ownership groups turn over in the years ahead.
Monday's session concluded with updates on information technology and marketing from department vice presidents Andrei Katibnikov and Jeff Paul.
[RELATED: FleetPride debuts next-generation e-commerce solution]
Katibnikov says distributor and supplier adoption of PARTSPHERE OMS continues to grow and the platform continues to advance in terms of functionality and data transfer. Paul's team also has updated PARTSPHERE PIM with millions of product attributes, images and parts interchange data to support stockholder sales teams and e-commerce solutions. Regarding the latter, VIPAR Heavy Duty has partnered with two vendors to help stockholders execute on digital commerce strategies. And Paul says leveraging the groups preferred digital commerce partners is not a prerequisite to access the PARTSPHERE PIM product data — distributors can acquire the information to use in an e-commerce platform they choose.
"We're going to make sure you have the content to fit your system," he says.