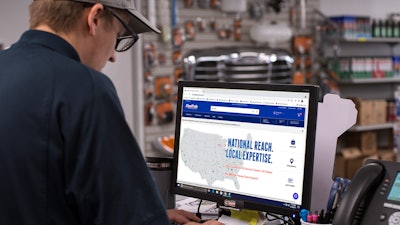 FleetPride on Tuesday formally introduced its next-generation e-commerce portal, which the company says was developed to complement its national network of 282 stores and more than 3,700 expert associates to better serve its customers and keep their equipment on the road.
"As a leader in the heavy-duty aftermarket, we believe we are in a perfect position to lead in digital development," says Senior Vice President of Digital and Marketing Darren Taylor. "We are focusing on becoming great at a few key things that will benefit our customers and partners."
Taylor says FleetPride's e-commerce portal has been in production for more than a year. He says the company was driven to create the platform as a method to drive customer engagement and strengthen its customer service capabilities.
"Whether it is a truck down situation, or re-ordering to stock up on items, FleetPride will relentlessly pursue being the first click for customers in the heavy-duty industry by being the most reliable solution," he says. "Now customers can click, talk, chat or visit FleetPride to immediately access the expansive inventory of parts and vast network of stores, service centers and distribution centers to get the exact products and services needed to keep their trucks moving."
[RELATED: Five crucial e-commerce metrics for distributors]
Taylor says both FleetPride customers and associates have been vital to the development of the portal, offering insights on how to present product information and data to ensure the website offers an optimal user experience. Additionally, Taylor says the site was beta tested with branches and customers for nearly a year before this week's launch and dialogue between users and FleetPride will continue in the months to come to ensure the new site is excelling in the areas it was designed to serve.
"We are constantly test driving the new experience," he says.
Mike Harris, senior vice president, sales and operations, adds the new site is part of FleetPride's next phase of offering tailored solutions to provide the most comprehensive parts and service product offering in the aftermarket. He says early data indicates the website has actually increased customer interaction with branches — through follow-up phone calls, product pickups, etc. — and believes as customers become more familiar with the site their commitment and reliance on FleetPride will only grow.
"Our goal was to build a best-in-class digital solution for the heavy-duty industry," adds Taylor. "With that in mind, we have invested a lot of time and resources to collect and organize mass amounts of data so our customers can rely upon FleetPride to help them make the best choices for their parts purchases."
FleetPride also has made changes to its shipping processes to support the new solution. The company has eliminated some nodes in its corporate supply chain to combat bottlenecks in product acquisition and distribution, and also is now allowing customers to place orders online for products that will ship directly from one of the company's five PDCs. Harris says this focus on in-stock positioning should give customers confidence that FleetPride's national network is capable of serving their needs wherever they may be.
And FleetPride wants to be everywhere. CEO Mike Duffy says 83 percent of Americans live within 50 miles of a FleetPride facility. The company has added more than a dozen points of sale in 2021 alone (including ten service shops) and will continue to look for growth opportunities (acquisitions and greenfield) in the months and years ahead as it attempts to further strengthen its positioning in the independent aftermarket.
"We continue to look for partners who share our values and fit our culture," he says.