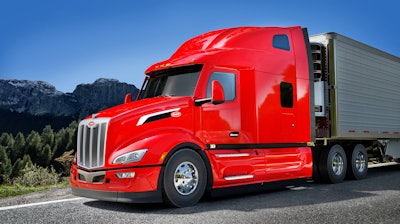 Paccar reported Tuesday an earned net income of $720.4 million in the second quarter, a 45 percent increase over the same period last year and one of the strongest quarters in recent company history. Overall second-quarter net sales and financial services revenues were $7.16 billion, compared to $5.84 billion achieved in the second quarter of 2021.
Paccar also reported first half net income of $1.32 billion, compared to $966.3 million, earned in the first six months of last year. Net sales and financial services revenues for the first six months of 2022 were $13.63 billion, compared to $11.69 billion achieved last year.
"Paccar achieved record revenues and net income in the second quarter of 2022 due to increased deliveries of new truck models, excellent gross margins and record Paccar Parts results," says Preston Feight, CEO. "Paccar Parts achieved record quarterly sales and profits due to high truck utilization and industry-leading logistics performance that enhanced customer uptime. Paccar Financial Services delivered excellent profitability due to its high quality portfolio and strong used truck prices. I am very proud of our employees for delivering the highest quality trucks and transportation solutions to our customers."
Beyond its overall numbers, Paccar reported its Paccar Parts revenues of $1.43 billion in the second quarter, with pretax income of $353.3 million. The Paccar Financial Services business had a pretax income of $144.4 million in quarter.
Paccar Parts' pretax income was 32 percent higher than the $266.8 million earned in the same period last year and its revenues were up 18 percent.
"Customers' increased truck utilization and higher average fleet age contributed to Paccar Parts' record results. Paccar Parts' advanced technology solutions increase customers' uptime by providing optimized logistics support from 18 strategically located PDCs," says Laura Bloch, Paccar vice president and Paccar Parts general manager. "Paccar Parts' innovative programs include TRP all-makes parts, 250 independent TRP stores, managed dealer inventory and innovative e-commerce technology. The growing TRP business is designed to increase Paccar's parts business by offering high quality TRP components for older Paccar trucks, as well as vehicles manufactured by other companies."
"Strong freight tonnage, excellent industry truck utilization and ongoing customer demand for new Kenworth and Peterbilt trucks highlighted the second quarter," adds Darrin Siver, senior vice president. "Customers appreciate the enhanced fuel efficiency and advanced technology in Kenworth and Peterbilt's new heavy- and medium-duty trucks."
Class 8 industry retail sales in the U.S. and Canada are estimated to be in a range of 260,000-290,000 trucks this year. Kenworth and Peterbilt's Class 8 retail sales market share is 29.4 percent year-to-date, the company says. Paccar also noted it delivered 46,900 units globally in Q2.