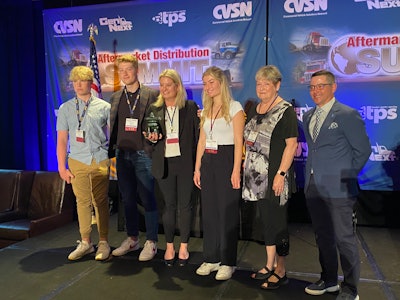 A number of aftermarket professionals were recognized for their commitment to the industry Monday during the opening general session of the Commercial Vehicle Solutions Network (CVSN) Aftermarket Summit in Lake Tahoe, Calif.
Mike Selick of Trux Accessories; Ben McGinnis of Carolina Powertrain; Joe McIntire of Vander Haag's; and Nick Seidel of Action Truck Parts were named recipients of GenNext's 4 Under 40 Awards, and the late John Bzeta of FleetBrake was posthumously awarded the CVSN President's Award.
Selick, McIntire and Seidel were on-site to receive their awards, which were presented by CVSN Executive Director Angelo Volpe and TPS Editor Lucas Deal. John Bzeta's wife Michelle, his three children and his mother were on-site to accept the President's Award on his behalf.
The 4 Under 40 program recognizes individuals for their commitment to the independent aftermarket industry. Recipients are nominated by their peers and winners are selected by the GenNext and CVSN leadership teams. Trucks, Parts, Service is the exclusive sponsor of GenNext's 4 Under 40 Award program.
McIntire joined Vander Haag's as a technician after graduating from WyoTech 14 years ago and has steadily risen through the company's ranks into his current role on its sales team. Calling the honor, "shocking," McIntire said he plans to use the recognition to help drive more of Vander Haag's young associates to get involved in the aftermarket.
Selick, who is approaching his tenth year in the aftermarket this fall, was equally amazed by the honor. He said before joining Trux Accessories he had never considered a career in the aftermarket but since joining, he's loved the entire experience. He's also working hard to ensure his young team becomes as engaged.
"That's the beauty of this industry," added McIntire. "You don't have to know about truck parts to get into it. We have great people who will mentor you and teach you."
Prior winners include Nikki Paschall, Ian Johnston, Steve Hansen and Nick Tosie in 2018, and Sean Ryan, Kate Diecks, Jerry Conroy and Megan Vincent in 2019.
In accepting the President's Award on her husband's behalf, Michelle Bzeta was gracious of CVSN's recognition for her late husband.
"I want to thank everyone so much for welcoming us to this conference," she said. "John loved the industry, loved the people. He's greatly missed, but it is great for us to come and see everyone. Thank you so much."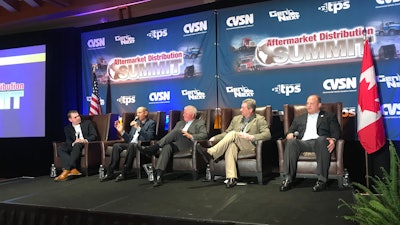 Monday's opening general session also included a business presentation panel moderated by Lucas Deal on the supply chain, featuring Chief Tom Gazsi and Mike DiBernardo from the Port of Los Angeles, Matt Forner of Grote Industries and Mike Harris of FleetPride. During the presentation, each panelist updated the audience on the state of their operations within the supply chain, the areas of their businesses that are improving and the segments of their operations that remain suboptimal.
General sentiment from the panelists was positive. Product movement through the port is improving and in the aftermarket, fill rates are slowly rising. Inflation, rising diesel prices and the ongoing contract negotiations for port workers remain challenges the supply chain will face in the months ahead but, overall, Monday's panelists felt the supply chain is stronger today than its been in many months and that actions taken over the last two years will reduce the likelihood of a similar supply chain breakdown occurring in the future.