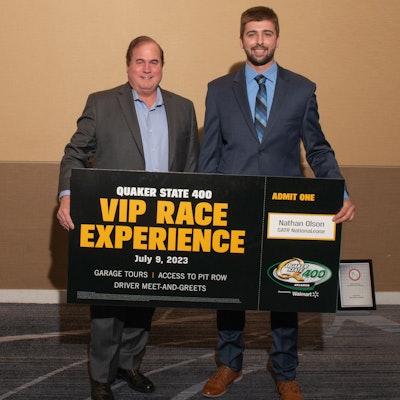 NationaLease recently recognized 12 member companies at its 2023 Maintenance Managers Meeting for their excellence and due diligence to provide exceptional reciprocal service to fellow members within the NationaLease network.
"The Exceptional Service Award recognizes some of the most important people in our industry – the people who keep our trucks running," said Jane Clark, Vice President of Member Services. "It's the highest award given to a member chosen strictly by a vote of their maintenance manager peers."
First, second, and third place awards were allocated from three size categories: <150 Power Units; 151-600 Power Units; and 601+ Power Units.
Fewer than 150 power units
Platinum: Grane NationaLease
Gold: Diversified Truck Leasing, a NationaLease member
Silver: Fleet One Leasing NationaLease
151-600 power units
Platinum: Fox & James NationaLease
Platinum: Koch NationaLease
Gold: Truckway NationaLease
Silver: Parrish Leasing, Inc., a NationaLease Member
601+ power units
Platinum: Hogan Truck Leasing, Inc., a NationaLease Member
Platinum: Salem NationaLease
Gold: Airoldi Brothers NationaLease
Silver: Aim NationaLease
Silver: Brown NationaLease
The company also recently announced Nathan Olson of GATR NationaLease as the winner of the 13th annual NationaLease Tech Challenge.
With an unprecedented record number of more than 300 Tech Challenge participants hailing from NationaLease's full-service truck leasing companies across the United States and Canada, the competition was fierce. After an earlier written knowledge exam, 10 exceptional technicians secured their spots in the final competition by achieving the highest scores in their respective regions.The subsequent hands-on segment took place at the Universal Technical Institute in Lisle, Ill., where the Top 10 regional winners showcased their expertise across various stations, including Air System & ABS, Lubricants & Filters, Fasteners & Wire, Fan Hub, Start & Charge, Tires / Radial Run Out / Wheel Mount, Engine Electronics & Mechanical, Wheel End & Foundation Brakes, Detroit Aftertreatment, Liftgates, and Fifth Wheel.
Olson became the first-ever 10th finalist in the Top Tech Challenge, securing the second highest score in region 7. Olson's extraordinary talent had been recognized previously as he attained the title of NationaLease Tech Challenge Regional Winner in 2019, 2020, 2021, and 2022, consistently ranking among the top three contenders and ultimately becoming the top tech in 2021.
Olson's passion for the field was kindled at a young age when his father introduced him to the intricate process of dismantling an engine on an Old Briggs & Stratton powered push motor. His hard work and dedication led him to become a certified Volvo Diesel maintenance technician at GATR NationaLease for over eight years, taking only a five-month hiatus for an interim instructor role at a local technical college's medium- and heavy-duty truck program.Joining Nathan Olson are first runner-up Jason Newman from Salem NationaLease and second runner-up Mark Duselis from Aim NationaLease.
These highly skilled individuals will represent the NationaLease organization at the upcoming TMC Annual SuperTech Competition scheduled later this year.
"We are very proud of Nathan for his outstanding performance in the NationaLease Tech Challenge and congratulate all the Top Techs that participated this year. None of us would be here without all your hard work and dedication to making sure our trucks operate smoothly every day," says Clark.
The remaining seven of the ten Tech Challenge finalists included:
Region 1: Matthew Kenney, VEL NationaLease
Region 2: Stewart Kitchin, Ballard Truck Leasing, a NationaLease Member
Region 3: Eric Maynard, Aim NationaLease
Region 5: Zach Saum, Aim NationaLease
Region 7: Wade Murphy-Price, Airoldi Brothers NationaLease
Region 9: John Norwood, Aim NationaLease
Region 8: Clyde Weathers, Hogan Truck Leasing, Inc., a NationaLease member