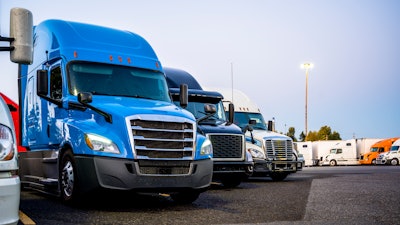 With truck orders on the downslope and the supply chain continuing to improve, ACT Research reported Thursday it anticipates the commercial truck backlog should continue to decrease until OEMs open their order boards for 2024.
ACT estimates the Class 8 backlog shed 15,100 units in April and now sites around 203,000 total units.
"As supply conditions have improved, so has output. Evidencing this trend, heavy-duty and medium-duty production each exceeded build plans again in April," says Eric Crawford, ACT Research's vice president and senior analyst. "The Class 8 build rate in April was 1,384 units per day, 6% above industry build plan. The industry produced 26,302 Class 8 units across April's 19 production days. Classes 5-7 build averaged 1,192 units per day, 13% above build plan."
He adds April's build rate for Classes 5-7 was the highest single month since August 2019, as the industry produced 22,650 units across April's 19 build days.
Crawford also notes medium- and heavy-duty retail sales remain robust, both sectors rose by double digits year over year in April. "The heavy-duty unit per day rate, 1,431 seasonally adjusted, was its highest in nearly four years, and the medium-duty rate, 1,009 seasonally adjusted, was its highest in 18 months."
Yet Crawford notes sales may not maintain that strength all year. He says ACT anticipates positive momentum to slow in the second half of the year as the impact of prior Fed rate increases takes hold (and another rate hike may still come) and the "cumulative impact of depressed freight rates over an extended period weighs on pent-up demand."