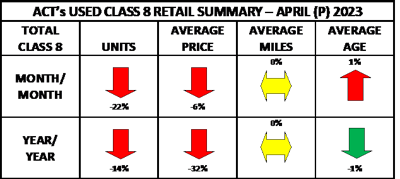 The used truck market took another tumble in April. ACT Research announced Monday preliminary Class 8 same dealer used truck retail sales volume fell 22% month over month in April.
ACT says the decline split the difference with the auction and wholesale markets. As expected, auction activity pulled back (down 45%) from March's quarter-end spike. On the flip side, wholesale deals were up 130% from March.
Compared to March 2023, average retail price was down 6%, miles were flat and age increased 1%. Compared to April of 2022, volumes, price, and age declined and miles were flat.
"Historically, April is a pretty average month, slowing 8-10% from March," says Steve Tam, vice president at ACT Research. "Clearly, some used truck buyers are beginning to react to the increased pressure of slowing freight and economic uncertainty."
"The preliminary average retail price (same dealer sales) of used Class 8 trucks sold in April fell 6.0% month over month, to $68,500, 32% below the industry peak in April 2022," Tam adds. "While easier comparisons from this point forward might make it feel like the pricing environment is improving, prices will still be falling sequentially, counteracting increasing optimism."