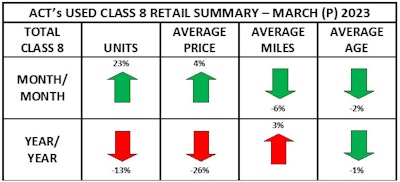 The used truck market saw an increase in sales last month, with same dealer sales retail volumes up 23% month over month, ACT Research announced Monday in its State of the Industry: U.S. Classes 3-8 Used Trucks report.
ACT Research says the retail bump was directionally consistent with, but smaller in comparison to, the 93% pop in auctions sales and a 34% bump in wholesale transactions. Combined, the used truck industry saw preliminary same dealer sales increase 53% month over month.
"Historically, March is one of the best months for sales, but not as strong as indicated by preliminary data. Regardless, buyers are taking advantage of improved inventory and lower prices to refresh their fleets with younger, lower mileage units," says Steve Tam, vice president at ACT Research.
Tam says the average retail price (same dealer sales) of used Class 8 trucks sold in March was up 4% month over month, but 26% below March 2022.
"The unexpected gain is somewhat the result of younger, lower mileage trucks making their way into the market as the logjam on new truck purchases and subsequent trades continued to break up," Tam says. "Fleets have been forced to hold onto their trucks longer because of supply-chain constraints. Will there eventually be a large influx of meaningfully older, higher mileage trucks into the secondary market? And if so, what will happen to pricing? While no one knows for sure, we do expect an uptick, but not a flood, of this vintage of equipment."