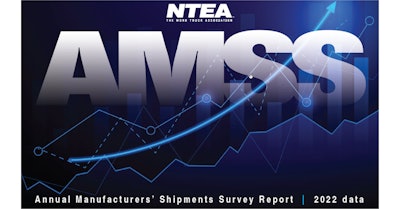 NTEA -- The Work Truck Association released its Annual Manufacturers' Shipment Survey Report on Wednesday.
The AMSS enables the commercial vehicle industry to estimate market size by dollars and units for 54 product lines using 2022 data, NTEA says. The organization collected and evaluated data from 84 participating companies.
[RELATED: NTEA webinar addresses recession possibilities for second half]
"AMSS report data offers commercial vehicle industry companies key insights to support their strategic business planning efforts," says Steve Latin-Kasper, NTEA senior director of market data and research. "It's an important resource that can help empower businesses to make informed decisions."
The latest AMSS report shows that the 2022 value of shipments rose 8.9% when compared to 2021. That year, shipments rose 16.2%. NTEA says that, in unit terms, many product lines registered declines relative to 2021 and some remained down since 2017.
NTEA publishes AMSS data in unit and dollar terms and provides indexes, enabling an accurate annual percent change calculation for each market segment. The report is $299 for NTEA members and $599 for nonmembers. Survey participants receive a complimentary copy and a data tool containing results in an Excel spreadsheet for easier manipulation.