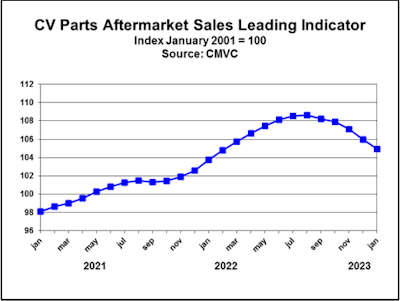 Commercial Motor Vehicle Consulting (CMVC) reported Tuesday its Parts Aftermarket Sales Leading Indicator (PLI) decreased 0.9% in January, following a decrease of 1.1% in December.
PLI has been trending downward since September, signaling slowing growth in commercial vehicle parts aftermarket sales.The January Index was only 1.1% higher than January 2022.
Many of the variables that make up PLI have peaked, but remain at relatively high levels, CMVC reports, so PLI is signaling slowing growth in the parts aftermarket sales in the coming months, but the risk is PLI continues to trend downward changing the parts sales outlook to decreasing sales from slowing sales growth.
"The macro fleet business environment has changed as the freight environment is sluggish, fleet capacity utilization is trending downward, profitability in the for-hire trucking industry decreased in the fourth quarter and pricing competition in the for-hire trucking industry has increased and the factors that weighed on the fleet environment in 2022, inflation and rising interest rates, will continue to weigh on the fleet business environment in 2023, evaluating risks of a recession," says Chris Brady, CMVC president.
"A soft economic landing would support sluggish growth in parts aftermarket sales, a recession, however, would change the parts aftermarket sales outlook to decreasing sales from slowing sales growth."