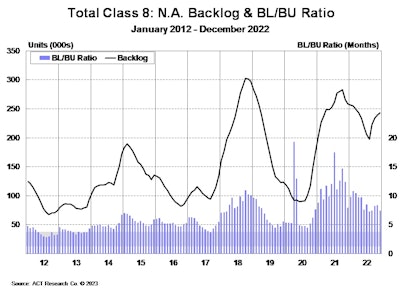 Despite a softening freight picture and higher financing expenses for truck buyers, ACT Research announced Monday in its North American Commercial Vehicle Outlook report that it continues to anticipate healthy sales and build trends for Class 8 trucks this year.
ACT states pent-up vehicle demand and still elevated carrier profits in early 2023 continue to provide a supportive environment for new equipment.
"The industry enters 2023 with a fair amount of visibility, thanks to a robust backlog," says Kenny Vieth, ACT Research president and senior analyst. "While down year over year, the December-ending Class 8 backlog represents the fourth highest year-end backlog on record. With this as context, our call for strong production in 2023 is hardly a stretch. That said, we do expect softening, as lower freight volumes and rates, higher costs, improved equipment availability, and the gradual exhausting of pent-up demand begin to exert downward demand pressure."
Vieth adds that ACT Research still continues to expect a recession in the first half of this year leading to an incremental year-over-year decline in 2023 Class 8 build from 2022 as "freight market weakness increasingly weighs on demand into the year's second half," he says.
"While the Fed may continue raising interest rates in 25-basis point increments longer into 2023 than currently envisioned, we do not believe the pace of rate hikes will be aggressive enough to sharply impact commercial vehicle market performance."