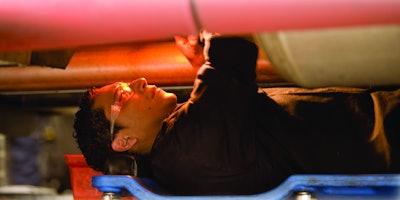 Today's commercial transportation environment is unlike any experienced before, with trucks in high demand and resupply in a state of extended back order.
The result is the average truck is older with higher mileage and often with no warranty. Equipment repair and maintenance work are at or over max capacity as everyone works to keep their part of the supply-chain moving. To worsen the situation, some of the new trucks put into service are having immediate software and mechanical "issues" that take them off the road more often than expected.
Moreover, trucks on the road today have more and increasingly sophisticated electronic componentry, which increases the need for updated knowledge and smarter tools to both diagnose and better yet, get ahead of mechanical failures using predictive analytics.
Repair shops can easily be overwhelmed, especially if they are not prepared with quality technicians with the capabilities and tools to effectively serve their customers.
There is no better time than now to assess readiness and offerings within your shop business.
Do you have all the, technicians, products, programs, services and tools necessary to "smartly" evaluate a breakdown(diagnostics), perform the repair (parts, workstation equipment, warranty programs) all to ensure the customer is taken care of and returns to you for future business?
The Association for Commercial Equipment Solutions (ACES) with its affiliate vendors provide a variety of tools, offerings and benefits, that can distinguish a repair business or small fleet from all others by both lowering expenses and adding profitable revenue streams with services customers truly need.
Repair shops can smartly diagnose and service vehicles, and help their customers prevent mechanical issues before they happen. But how? By using the right diagnostic and predictive analytics tools in time and the first time, a shop can completely alter the course of a previously inevitable catastrophic event. The result is repair work is more efficient, work orders can be smartly combined, and customers are back on the road sooner earning revenue. This win-win allows a shop to grow profitably while valued customers gratefully avoid possibly tens of thousands of preventable repair expenses.
And with all that can go wrong with a well-traveled heavy-duty truck, it makes good sense for a truck owner operator to secure the peace of mind behind having a reputable mechanical breakdown warranty.
[RELATED: Valvoline opens first heavy-duty service center]
ACES-affiliated repair shops, with a qualifying inspection (done by you) can provide a warranty for any truck not older than 10 model years. ACES warranty programs are the most recognized aftermarket warranty product, depending on component coverage desired and coverage terms.
I encourage customers to have preventive maintenance (PM) done at warranty requirement intervals. Provide incentives for these PMs and use the diesel decoder each time you see the truck to mitigate costs and reduce or eliminate preventable downtime.
ACES also provides products to address the health and safety of the vehicle operator, including the benefit of Vehicle Return Program (VRP) and Life GAP. In the case of an unforeseen event that affects a driver's ability to continue driving, there is "protection" from financial disaster.
Ultimately, the true opportunity is when repair work is being done on behalf of a customer, when a service shop has full attention, a "captured audience" prospect, with whom a service shop can offer the suite of services to help them achieve huge savings in the case of those looming catastrophe events. And as is well known, truckers are at a much higher risk of these events with the heavy demand on their equipment and time on the road.
ACES is here to help the commercial transportation industry not only survive the "headwinds" of today's environment, but profitably thrive and fulfill the growing need for a properly equipped and quality staffed repair and maintenance business.