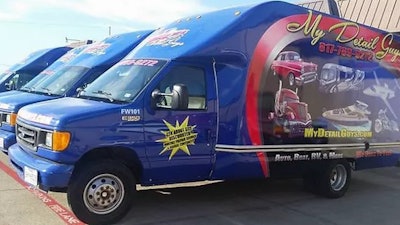 Come and think outside the box with me for a moment.
Let's say one of your customers brings in a truck for maintenance or repair after a long haul through grimy metropolitan areas. Or maybe the truck has been traversing the dusty highways of the Southwest. Regardless of the scenario, the truck is looking a little ragged and is in bad need of some TLC.
Perhaps vehicle washing and detailing is a service you should consider offering for your customers. It could be another revenue stream. It also could be another way to make your business a one-stop shop and differentiate yourself from competition. But maybe you don't want to deal with the overhead, among the other factors required to get the added service off the ground. Totally understandable.
But what if, perhaps, you align yourself with a local heavy-duty truck detailer in your area? You mention the detailing business to your customers and the detailer mentions your shop to theirs — a little quid pro quo.
I recently spoke with Sindee Stevens of My Detail Guys & Upholstery, who has been with owner Milton Lugo since he started the business in 2008. Stevens provided a glimpse into the heavy-duty truck detailing business.
"Our guys who do the detailing can do in three hours what a layman would need six to seven hours and still not have it as clean as our detailers," Stevens says. "We do everything from complete interior/exterior detail to polishing aluminum wheels and tanks to buffing oxidation. And our upholstery shop does upholstery repair and replacement."
In addition to Class 8 tractors, My Detail Guys prides itself on washing equipment others won't, including earth movers, cranes and excavators.
The company offers various washing and detailing packages, and its customers range from owner-operators to fleets. My Detail Guys also offers a monthly freshen-up package for companies that want to keep their trucks looking clean. "We don't do a full detail [for the refresh], but we go in and make sure everything is done that needs to be done so they always stay looking nice," she says.
While My Detail Guys will wash and detail trucks at one of its four locations, the company's services almost are entirely on a customer's site, and its area of operation is a 65-mile radius from its Fort Worth, Texas, metro area headquarters. Each company vehicle is self-contained, equipped with its own water, power, air generator, pressure washer, vacuum and cleaning tools and chemicals.
Washing a heavy-duty truck requires more know-how than just handing someone a sponge and a bucket. "Everyone and their brother think they're a detailer," Stevens says. However, training is involved.
"We very seldom hire people without experience. Training from the ground up is difficult. We want to do it our way, but they must have some sort of experience," she says.
Initially, the company uses training videos that cover every aspect of washing and detailing a vehicle. The rest of the training is handled by two employees who have been with the company since the beginning. New employees remain at the shop for at least a week so they can be supervised while cleaning trucks. From there, they become part of a two-person team as a helper to the lead detailer when going on site and the team members check each other's work while on the job, she says.
"We're really big on customer service. We try to make sure everyone is happy. We want to know how we're doing and if somebody has something bad to say, we call them to see if we can redo their vehicle and make them happy in every way we can," Stevens says.
So that's the quick and dirty on truck washing and detailing. Many service providers already offer on-site PMs and repairs. Perhaps sending a detailing crew over (at a separate time, of course) is something you might want to consider for some incremental revenue.
Or find a business like My Detail Guys in your area to which you can refer customers. Maybe a referral arrangement can be worked out. If not, at the very least, it can help strengthen the bond between you and your customers by being a resource for a service not everyone in the truck aftermarket thinks about.