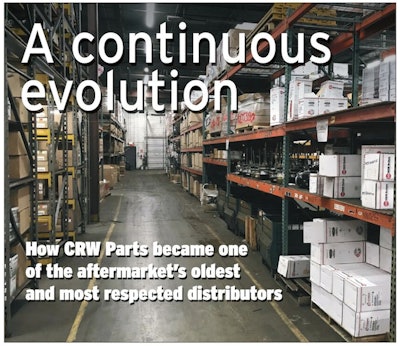 All businesses evolve. But, in the independent aftermarket, few are more accustomed to evolution than CRW Parts. Much of that evolution, though, comes from the fact the company was founded before trucking existed.
The business the independent aftermarket now knows as CRW Parts first opened as RW Norris and Sons in 1850 before trucks, parts, service and distribution ever found their way into a sentence together.
Back then, the Norris family sold almost everything. Wagon wheels were the transportation good of choice and were stocked in great supply, but the company also stocked housewares, outdoor goods and anything else a customer might buy. By the turn of the century, current CRW Parts President and RW Norris' great great great grandson Dave Willis says, "It was almost like a department store; you wouldn't believe the stuff they had."
Willis says he has copies of the company's catalogs from the turn of the century filled with transportation products as well as seemingly random goods like shotgun shells and vintage Hollywood posters. He says perusing the old catalogs today can be a humorous experience — he can't imagine stocking half the stuff his relatives once sold — but it's also somewhat enlightening. As the company's sales in the transportation sector grew, so too did its focus.
Movie posters might have been great for nostalgia, but it was wheels that drove RW Norris and Sons' bottom line.
By the second decade of the 20th century, with the automotive and trucking aftermarkets still in their infancy, RW Norris and Sons started to specialize in wheels and wheel end components. Company leaders would help found the National Wheel and Rim Association in 1917, furthering the company's commitment to the transportation industry.
"As you go through life you pick and choose where you want to stay and I think they realized they wanted to be in transportation," Willis says of his predecessors.
Other product lines and categories were added over the decades as RW Norris and Sons grew into one of Maryland's most recognized automotive and heavy-duty distributors.
Then tragedy struck.
Within a few months in 1962, two of Willis' three uncles who were leading the business died. The third decided he no longer wanted to run the company alone and, after more than a century in operation, RW Norris and Sons approached its end.
Willis' father Ralph (later known throughout the aftermarket as Bo) was employed with the company at the time. Only 32, Bo Willis wasn't ready to turn his back on a career in the aftermarket just yet; but in the wake of his family's misfortunes and the state of the company being what it was, he also knew he couldn't continue the operation as it stood.
So, a deal was struck. Willis took the customer contacts, employees and suppliers from what remained of RW Norris and Sons and founded Chesapeake Rim and Wheel Distributors Inc.
Another 50-plus years later, the "new" company Bo Willis established out of his family's tragedy has expanded to an eight-location distribution business serving the light-, medium- and heavy-duty aftermarket throughout the Mid-Atlantic region.
Renamed CRW Parts Inc. in 1996 — the prior name was a bit cumbersome for customers when buying parts, Dave Willis jokes — the company employs more than 100 associates, is an active member in VIPAR Heavy Duty, the Commercial Vehicle Solutions Network (CVSN) and National Pronto Association (an automotive aftermarket organization), and now for the first time has been recognized as the Truck Parts & Service Distributor of the Year.
"I think one of our strengths is we've always recognized where we need to be in our marketplace," says Willis. "We've morphed a lot over the years as we've followed our customers and their needs."
In doing so, CRW Parts has cultivated one of the most diverse product offerings in the independent aftermarket, carrying a full line of light-duty truck and passenger car parts as well as its comprehensive commercial truck and trailer product lines. Willis says CRW stocks more automotive components because the larger market size demands it, but notes a majority of the company's sales come from its medium- and heavy-duty business.
The company enjoys serving that market as well. The automotive aftermarket is a high-margin industry but it's also very cutthroat, Willis says. It's not a market built on cooperative partnerships like the commercial trucking industry.
"I think heavy-duty customers are much more grateful," he says. "If you show you can solve their problems they are much more likely to rely on you and trust you."
Yet Willis admits that earning and maintaining the trust of customers is a full-time job. CRW Parts' inside and outside sales associates attend supplier training courses throughout the year to ensure they understand the components they are selling. The company's leadership team also urges its employees to study and hone their craft, not just to help the company but also themselves.
"Learning how to sell is so important because not everyone is a natural salesperson," says Willis. "We want our people to have that desire to learn and grow."
And they do. Many of CRW Parts' managers and department heads have climbed the company's corporate ladder into their current roles, and Willis says when he hires someone, he's often looking not only to fill a role but also to bring in an associate who one day may be called upon to lead. This forward-thinking hiring process ensures the business remains attentive to customer needs and is able to respond quickly when those needs change.
Willis adds CRW's participation in the automotive aftermarket has proven useful as the company navigates the multitude of changes occurring in the medium- and heavy-duty space. He says much of the trucking aftermarket's new priorities — focusing on data, leveraging online tools, etc. — aren't actually new to CRW Parts. The company has been researching, evaluating and acting on those changes for several years.
The CRW Parts team also has been active throughout its history in sharing those experiences with the trucking aftermarket at large. Dave Willis says his father's openness and cooperation with his fellow distributors has influenced how he's participated in the industry, first in VIPAR Heavy Duty and then in CVSN, where he served as a board member and then president, and at Heavy Duty Aftermarket Week, where he was co-chair in 2011.
Willis also encourages his store managers to be active in the industry and their markets, adding anything CRW Parts can provide to the industry is more than repaid by its contemporaries.
In an industry that is unquestionably changing, Willis says CRW Parts needs to look for solutions to solve its customers problems anywhere they can be found.
"Being able to solve [customers'] problems are what has kept them loyal to us for all these years. They know when they come to us, we will drop what we're doing to solve their problem and get them running again," he says. "If we ever stop doing that, that loyalty will be gone."
The 2018 Truck Parts & Service Distributor of the Year program was sponsored by Minimizer, Meritor, Interstate Billing and Karmak. Other finalists for the award was DeCarolis Heavy Duty Parts, First Call Truck Parts, Royal Truck and Trailer, and Wofford Truck Parts.