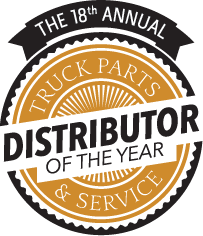 Truck Parts & Service is thrilled to once again open the nomination period for our Distributor of the Year award.
Now in its 18th year, the Truck Parts & Service Distributor of the Year award is sponsored by Minimizer, Meritor, Interstate Billing and Karmak. As you may know, the Distributor of the Year award program was developed by Truck Parts & Service Founder Jim Moss to honor the most innovative and respected distributors in the North American independent aftermarket. Moss believed in the importance and necessity of the independent aftermarket and felt those thriving in the market deserved recognition for their positive impact on the trucking industry and the North American economy at large.
The Distributor of the Year award stands as the independent aftermarket's most respected and highest honor, and is presented to a distributor who exemplifies excellent customer service, product knowledge and willingness to improve and evolve their business with industry changes.
The Truck Parts & Service Distributor of the Year nomination process is open to the entire trucking industry, and all independent aftermarket distributors in North America except last year's winner (CRW Parts) is eligible for the award.
To nominate a distributor, simply click the link at the bottom of this page and follow the instructions on the form provided. Truck Parts & Service will accept nominations from today through Friday, June 28, 2019.
The five distributors with the most nominations will be named finalists for this year's award, and will be announced on this website in July. The winner will be announced in next January at Heavy Duty Aftermarket Week (HDAW) in Grapevine, Texas.
CLICK HERE TO NOMINATE A DISTRIBUTOR