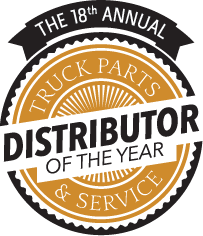 It's a simple question, the one above. And it's one I'd like to ask to anyone working for an independent aftermarket parts distributor?
Does your business deserve our Truck Parts & Service Distributor of the Year award?
If your answer is anything but no, then why haven't we heard from you? Why haven't you stepped up and nominated your company for our annual award?
It's free and easy (takes 30 seconds, no joke) and, most importantly, anyone can do it. Seriously. We accept nominations for anyone working in the trucking industry. And why do we do that, you ask?
Because the Distributor of the Year award is not exclusively about being the biggest distributor, or the oldest distributor, or the distributor with the prettiest balance sheet. The Truck Parts & Service Distributor of the Year Award, sponsored by Minimizer, Meritor, Interstate Billing and Karmak, is about recognizing all the businesses in the independent aftermarket that go above and beyond every day to keep their customers on the road. It's about recognizing the businesses that recognize how important their work is to the trucking industry and our economy, and take that role seriously.
We believe that's something any distributor can do, which is why all distributors (except last year's winner) are eligible for the award and everyone within the trucking industry is encouraged to nominate a distributor.
One nomination won't guarantee your business will win our award next January in Texas. It won't even guarantee you'll be named one of our 2019 finalists. Those spots go to the five businesses receiving the most nominations.
But it gives you a chance. It gives you an opportunity.
So please, don't delay. Nominate a business for the 2019 Distributor of the Year award today.