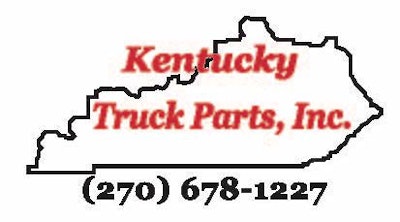 Earlier this month Trucks, Parts, Service released its finalists for the 18th annual Distributor of the Year award. All of the finalists this year were again selected through open industry nominations, and over the next several months, we will be regularly featuring each business on this website and on the pages of Trucks, Parts, Service.
Those features begin this week as we check in with 2019 Distributor of the Year finalist Kentucky Truck Parts.
This is the first time Kentucky Truck Parts has earned a nomination for the Distributor of the Year award. The answers below were provided by Kentucky Truck Parts Vice President Connor Gregg.
When was your business founded, and by whom?
Kentucky Truck Parts Inc., was founded in April 2016, by three brothers, John, Connor and Colin Gregg.
How many locations do you have?
We currently have one location located in Glasgow, Ky.
How many employees do you have?
We currently employ five people.
What is your company's value proposition?
"Constantly improving to keep you moving."
Do you offer any additional services to complement your parts offering?
We currently do not.
How do you differentiate your business from your competitors?
When Kentucky Truck Parts was founded in 2016, we made a commitment to our customers to offer the best customer service in the industry.
We offer free daily delivery within a 60-mile radius of our location. We do whatever it takes to take care of the customer. We have traveled over 600 miles to pick up parts for a customer that our distributing partner didn't ship on time. Our customers have our personal cell phone numbers. We are in most nights of the week providing after hours parts calls to get them back up and running again. While our competitor's sales have leveled off or even declined, our sales are up about 50 percent for the year.
The reason for our success is because of the customer service we provide. Our motto is, "Constantly improving to keep you moving!" This is a promise we have made to our customers. We increase our inventory daily, and are constantly bringing in new suppliers.
Why do you believe the heavy-duty aftermarket has nominated you for this award?
We believe we have been nominated for this prestigious award because of the level of customer service we provide. We treat our customers the way we would like to be treated.
We have stood on the other side of the parts counter, and we understand the difficulties our customers face daily. We have laid underneath trucks at 2 a.m. to get ready for the next day. We have been on the side of the road broke down. We have been the guy whose truck broke down at midnight with no place to get parts.
The reason we provide customer service the way we do is because we understand the customer. When we say "been there, done that," we mean it. We are 32, 26 and 23 years old. This doesn't mean inexperience. We have grown up around trucks since we were born. We understand the trucking industry.