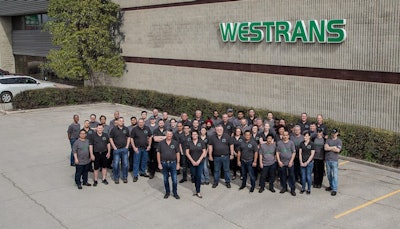 Westrans stocks just about everything. But President John Williams says that's not what makes the 52-year-old Canadian distributor unique. What separates Westrans is what it builds.
"I think that gives us a bit of a different relationship with our customers because we can do more" than just sell parts, he says. "We have the ability to build them what they need."
That focus on product development has been with the company since the start.
Westrans opened in 1967 as a premium remanufacturer of transmissions and differentials in Winnipeg, Manitoba. The company (styled Wes-T-rans at the time) focused initially on the light-duty truck market and would grow steadily since then, adding brake shoe relining, driveshaft rebuilding and more in its first five years. A parts store soon followed and by 1980 the company was forced to build a new 61,000 sq.-ft. facility in the heart of Winnipeg's industrial sector to support its burgeoning operation.
The new facility and the space it provided helped the company continue to expand its production and retail focus in the light- and heavy-duty markets. Williams says the company continues to serve both markets to this day, though heavy-duty trucking has become its primary market and helped it earn a position as a finalist for the 2019 Trucks, Parts, Service Distributor of the Year Award.
"We've changed quite a bit over time," he says. "But the industry has changed. I think we've stayed focused on what our customers need."
Westrans' aftermarket expertise isn't limited to its parts business. The company also operates a 13-bay service center at its Winnipeg headquarters that provides repairs, installations and preventative maintenance for pickups through Class 8 models.
Leading such an expansive operation may appear daunting, but Williams says he's fortunate to have nearly 80 of the most experienced professionals in the independent aftermarket on his team. He says most Westrans employees have been with the business a decade or more and understand exactly what is necessary to serve the company's wide customer base.
On that note, Williams says there are few segments in the trucking industry Westrans doesn't serve. The company's two locations are separated by nearly 575 kilometers (357 miles), which means each caters to a unique market.
Yet Williams also is quick to note that physical isolation doesn't mean the facilities aren't connected. Westrans' branches are linked by the company's management system to ensure customers are provided the right products at the right prices regardless of where they're shopping. He adds Westrans also onboards new associates through its Winnipeg headquarters to teach them about the business, and regularly cycles other associates through its HQ to keep them updated on the company's directives. Most other training is completed at each location, either through hands-on supplier courses or virtual online education.
Coupled with the company's experienced team, Williams says Westrans is well-positioned to serve any customer request at any time.
"We are very open and honest with our customers. We want to partner with them and provide them service they can rely on," he says. "Doing whatever it takes to help them is what makes Westrans, Westrans."