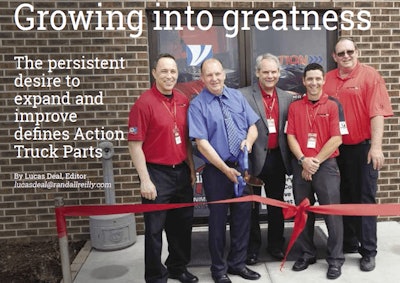 The last year has been a whirlwind at Action Truck Parts. For some independent aftermarket distribution businesses, so much change would be daunting. At Action Truck Parts, evolution and transformation is part of the company's DNA.
The company was founded on the belief that any aftermarket business committed to its customer base must be willing and able to evolve at any time to maintain its position as a premium partner and market leader. Over 15 years that belief has taken Action Truck Parts on quite a journey, but it's also helped it earn a reputation as one of the most forward thinking and fastest growing businesses in the independent aftermarket.
And now, after its third nomination, it's also landed the company the 2019 Trucks, Parts, Service Distributor of the Year Award, sponsored by Minimizer, Meritor, Interstate Billing and Karmak.
Speaking with TPS after again being nominated by the trucking industry for this award in July 2019, Action Truck Parts Vice President Nick Seidel was quick to zero in on the company's "ability to adapt and change" as the differentiator that has pushed the Chicagoland distributor to the industry's forefront.
"Whether it is the offering of new products or working with suppliers on ideas on how to gain market share in our area," Seidel says when Action Truck Parts commits to an expansion plan, "we do what we say we are going to do."
On that note, it helps that the company's entire existence has been spent in growth mode.
Founded in 2005, Action Truck Parts became one of Traction Truck Parts' first U.S. distributors when the Canadian company entered the American market in 2007. That partnership ended in 2013 but Action wasn't on its own for long. That same year it joined VIPAR Heavy Duty to help represent the buying group in its local market.
Action's first acquisition quickly followed, with a location conveniently located near one of the Midwest's largest rail and intermodal transportation hubs in Rockdale, Ill., in 2016. While Seidel admits doubling the company's footprint was difficult, he says that first expansion pales in comparison to the challenge the business has faced over the last 12 months since entering Chicago proper through another acquisition last January.
"It's been eye-opening," he says. "Talking with people in the industry, a lot of them told us adding another branch and going from two to three [locations] would be a game changer. They weren't lying. It's been challenging. Fortunately, we have a team that understands what needs to be done for us to be successful."
One of the company's biggest initiatives over the last year has been the relocation of talent and reallocation of resources to serve a growing area of operation. Seidel says in the past Action Truck Parts was able to swiftly move products and personnel between its Rockdale store and Bolingbrook, Ill., headquarters because the two were separated by only 20 miles of interstate highway.
Yet, since adding a third location, he says the company has discovered the importance of maximizing productivity and is currently working to replace an inefficient computer system that has struggled to handle the company's ascendant trajectory of growth.
"We've simply outgrown it," Seidel says.
He adds the company also has learned not all markets are created equal. The Chicago store and its clientele have substantially different expectations from its aftermarket distributors than the company's longstanding suburban customer base, Seidel says.
"It's been a learning curve. We used to have customers say they'd go into the city for certain products because it was cheaper and we never believed them," he says. "But it's definitely true. It's a lot more cutthroat than our other stores."
Yet Seidel says Action Truck Parts hasn't let the competitive market discourage it from growing the business.
On the contrary, he says the new competitive market has helped motivate his team. After finalizing its city expansion, the company's sales team dove headfirst into the area, hitting the pavement to introduce themselves to potential customers and strengthen relationships with existing partners.
Seidel attributes that dogged, tenacious approach to a corporate culture that has been carefully cultivated and refined since the company's inception. Action Truck Parts isn't just a young business, it's also a youthful business. Many of the company's nearly three dozen employees have been in the heavy-duty aftermarket for less than a decade and are eager to prove their business acumen and commitment to the industry.
Seidel includes himself in that youthful group. Though he's been associated with Action Truck Parts since it was founded by his father Ben Seidel and Bill Dudek in 2005, he didn't rise to the role of vice president until 2013. In his seven years leading the operation, Seidel says he's worked tirelessly to establish the business and set an example for his employees. He now holds company wide meetings each month to communicate business performance, company goals and to recognize team members for their positive impact on the company.
"I believe if you don't tell your people what's going on or how things are supposed to work, they won't always understand what is expected of them," Seidel says. "You can't build a culture if you don't tell your employees what you want from them and what they are expected to do."
Seidel also is quick to credit those close to him and throughout the aftermarket for sharing their leadership experiences. Action Truck Parts is one of many companies within Seidel Diesel Group, founded in 1981 by Geret Seidel, Nick's grandfather. Seidel says growing up watching his grandfather, father and current Seidel Diesel Group President Paul Thoms run the business helped him to better understand the skills necessary to lead at Action.
He's also grateful for the fraternity that is the independent aftermarket.
Since taking over the day-to-day leadership of Action Truck Parts, Seidel has thrown himself into the aftermarket, participating in as many industry groups and associations as he can manage as a way to acquire industry knowledge to pair with leadership coaching he's received his entire life.
"I think at first I got involved because I realized I had to. I remember thinking 'How am I going to do this?'" he says. "One thing I knew was if I was going to be successful, if [Action Truck Parts] was going to be successful, I had to surround myself with successful people and learn as much as I could from them."
He says he's still doing that as president of GenNext HD and vice president of the Commercial Vehicle Solutions Network, where he says, "I've learned you can pick up a lot by just being in the room listening."
He says much of Action Truck Parts' future growth will be determined the same way — by learning about the aftermarket from contemporaries and engaging with customers to determine the next step in the company's evolution to serve them in the best manner possible.
"We want to be adaptable and do things a little bit differently than everyone else," he says. "That's how we're going to be able to separate ourselves."