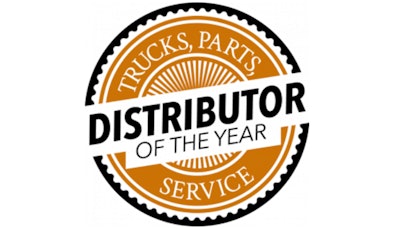 A first-time finalist joins a quartet of prior award participants as finalists for the 2020 Trucks, Parts, Service Distributor of the Year Award, sponsored by Minimizer, Meritor, Interstate Billing and Karmak.
Jim Hawk Truck Trailers — a nine-store operation with locations in Illinois, Iowa, Missouri, Nebraska and South Dakota — joins prior award winners Betts Truck Parts & Service, Point Spring & Driveshaft and Sadler Power Train, as well as prior finalist Cook Brothers in this year's award program.
These five business have nearly 40 combined locations across the United States and Canada and have now earned, collectively, 15 nominations in the 19-year history of the Distributor of the Year program.
"We are once again thrilled by the companies the independent aftermarket has nominated for our Distributor of the Year program," says Lucas Deal, content director, Trucks, Parts, Service. "Our industry never disappoints. Each year we ask the aftermarket who deserves acclaim for their business acumen and market success and each year the aftermarket responds with an incredible list of businesses. Of the more than 30 distributors nominated for this year's award, more than a dozen were prior nominees, including six winners.
"To have such as wonderful group again in 2020 is fantastic, and we are eager to learn more about each operation in the months to come."
Betts Truck Parts was named a finalist for the 2006 TPS Distributor of the Year award and won the title in 2007. Point Spring & Driveshaft earned nominations in 2003, 2012 and 2013 and won in 2005. Sadler Power Train was named the 2015 TPS Distributor of the Year after earning nominations in 2013 and 2014, and Cook Brothers was a finalist for the 2010 award.
Cook Brothers and Jim Hawk Truck Trailers also are the largest operations in this year's program with nine locations each.
As is customary, TPS will profile these operations on this website over the coming months with the announcement of our 2020 TPS Distributor of the Year winner scheduled to be announced at Heavy Duty Aftermarket Week 2021 in January in Grapevine, Texas.