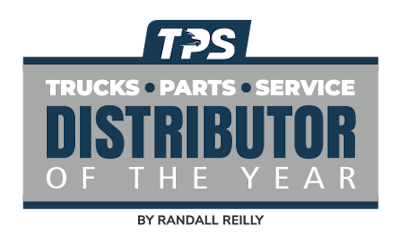 The Trucks, Parts, Service Distributor of the Year program is back in action for another year.
Now in its 22nd year, the Distributor of the Year program is once again sponsored by the Commercial Vehicle Solutions Network (CVSN), Cummins-Meritor, High Bar Brands, Interstate Billing Service and Karmak.
Finalists for this year's award were announced last month, with one prior winner, two prior finalists and two first-time finalists earning nominations from the aftermarket for the industry's highest honor. Over the next few months, we will be learning more about these organizations and what makes them so unique. We begin with Blaine Brothers.

This is Blaine Brothers' fourth nomination for the Distributor of the Year Award. The company was previously nominated in 2014, 2015 and 2016, winning the award in 2016.
When was your business founded, and by whom?
Blaine Brothers is a second-generation family-owned business. The company was started by two brothers, Fred and Rick Dally, doing service calls out of a 1969 Ford pickup. They rented a shop in Blaine and started doing shop repairs in late 1979.
How many locations do you have? (Please list the cities)
The company includes four separate business entities (Blaine Brothers, North American Trailer, TruckAline, and Hydraulic Specialty) that combined have 11 total facilities, two of them being co-branded. Blaine Brothers' facilities are in Blaine, Scanlon and Clearwater, Minn., and Baldwin, Wis.
How many employees do you have?
We have 403 and growing!
How does your business recruit new employees?
We are a fun, caring, Minnesota-based family-owned business that truly cares about its employees. We are here to support our employee's success. We have a work hard, play hard mentality and we take pride in every job we do. We lead with company culture and provide a fun and strong environment for our employees to thrive.
Ongoing training is important, so we can stay educated and knowledgeable in the industry. We offer a robust annual training program for both parts and service, taking advantage of both suppliers and partnership programs like the HDA Truck Pride training available to us and more. Blaine Brothers works hard to retain valuable employees and are constantly improving the onboarding and training programs we offer.
What is your company's value proposition?
Blaine Brothers exists to serve the transportation industry. With that mission in mind, no job is too big or too small. We are a part of the trucking community and committed members of this proud industry.
Since our founding, we've sought to help each of our partners as we would our own that's what gets us going every morning. We want to be respected for our strong family values that we put into every job we do. Through our values, we will strive to offer every one of our partners a helping hand by delivering value in parts, service, and sales in the industries we serve.
Do you offer any additional services to complement your parts offering?
The company includes four separate business entities (Blaine Brothers, North American Trailer, TruckAline, and Hydraulic Specialty) that together offer nearly every product and service requested in the commercial transportation industry.
The facilities offer medium- and heavy-duty truck and trailer parts, full-service truck and trailer shops, towing and 24/7 emergency service, customized fleet maintenance programs, transport refrigeration service and sales and rental of Capacity Yard Trucks.
How do you differentiate your business from your competitors?
We focus on continuous improvement, whether it's seeking out new brands, building additional locations, or launching an e-commerce site.
Also, the level of service we can provide, we pick up and deliver customers trucks, we can repair anything on their equipment, whether it is the truck, the trailer, the tank, the box, the engine, the drivetrain, there is nothing we can't do.
What is the biggest challenge facing your business in 2023?
Our biggest challenge is hiring enough technicians, parts professionals, and tow truck drivers as we continue to open new locations and expand our services.
Why do you believe the heavy-duty aftermarket has nominated you for this award?
We are devoted to bettering ourselves to help others keep rolling at their best.
Stay tuned, as in two weeks will learn more about 2023 award finalist Crossroads Truck Equipment.