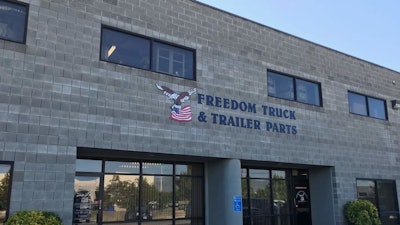 One of the aftermarket's greatest strengths is its adaptability. No two aftermarket operations are the same, but many are impressively malleable when it comes to evolving their business to meet changing customer needs.
That's what makes distributor origin stories so captivating. They can begin anywhere, at any time. Many don't begin with truck parts at all. But what every good aftermarket distributor story has in common is a fervent commitment to customer service and an unwavering willingness to adapt.
Freedom Truck & Trailer is a perfect example of that flexibility. With a tenacious focus on customer service and an openness to expand its business in any direction to support its customer base, Freedom has grown into one of the aftermarket's most unique distributors.
[RELATED: A quick chat with 2023 Distributor of the Year finalist Freedom Truck & Trailer]
Originally a glass importer for vehicle manufacturers, Freedom began supplementing it glass business with other product lines in 2002 at the behest of its customer base. It has continued filling out its product offering in the decades since and now operates its own remanufacturing and rebuilding business as well as supporting a full line of truck and trailer parts to customers in five states from its headquarters in Salt Lake City.
It is also now a first time finalist for the Trucks, Parts, Service Distributor of the Year Award.
President Bobby Rutherford says Freedom is humbled by the recognition, which not only validates the company's efforts to be a trusted partner to its vendors and customers in the upper Rockies region, but also because it shows the company's continuing evolution is on the right track.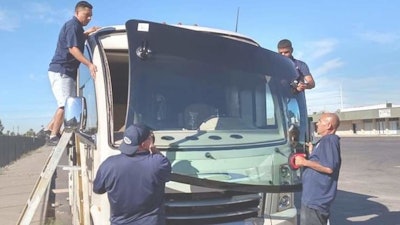 "It shows my guys that everything we're doing, and that we've done, is working," he says. "The hard work we've put into building this company is paying off."
That hard work can be seen in how Freedom covers arguably the largest single-location area of operation in the trucking industry.
Freedom has offers daily delivery to customers up to two hours north or south of warehouse and retail store. Rutherford says those daily runs enable the business to touch customers across the most populated areas of Utah, but that's not the only area the company services.
[RELATED: Weldon Parts earns 2022 Distributor of the Year Award]
Freedom also has four outside sales professionals that are tasked with covering the states neighboring Utah. Rutherford says these associates, many of which have been with the company for many years, depart from Salt Lake City each Monday on carefully developed routes to cover their vast territories. Rutherford says with territories so large Freedom's outside reps can't see each customer each week so they often stagger their visits so some customers are hit one week and others the following week. No matter what, Rutherford says all customers in outlying areas are visited by Freedom's sales team at least once per month.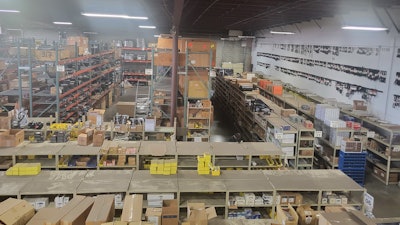 That level of customer service does not go unnoticed.
"We go above and beyond with our customers and they know that. We have customers who have never been visited by other distributors," says Rutherford. "We have customers who when they need something, they just say, 'Find it for me.' They don't look elsewhere because they know we will get it for them."
Freedom's part acquisition processes are equally impressive.
[RELATED: Growing your business? Communication key when rebranding after an expansion]
Rutherford says each of Freedom's outside salespeople are teamed with an inside associate and the pair work in tandem to fill outside orders. This cooperation, which Rutherford says increases order ship times, fill rates and customer satisfaction, also builds bonds between employees. Freedom hasn't had an outside or inside sales opening in more than four years, and Rutherford says he has a pipeline of trained, talented associates in his warehouse capable of moving into sales roles if the business was to expand — which it might.
Rutherford says Freedom has considered adding locations and has been approached by potential sellers. The company also has a strong reputation nationwide for its high-quality wholesale remanufacturing business, which coupled with its retail success is enticing for exiting aftermarket business owners.
"People recognize what we're doing here and the success we're having," Rutherford says.
The 2023 Distributor of the Year program is sponsored by Commercial Vehicle Solutions Network (CVSN), Cummins-Meritor, High Bar Brands, Interstate Billing Service and Karmak. The Distributor of the Year Award will presented in January at Heavy Duty Aftermarket Week (HDAW). For more on our 2023 award finalists, check back in the coming days or go to our program website.