The Trucks, Parts, Service Distributor of the Year program is back in action for another year.
Now in its 22nd year, the Distributor of the Year program is once again sponsored by the Commercial Vehicle Solutions Network (CVSN), Cummins-Meritor, High Bar Brands, Interstate Billing Service and Karmak.
Finalists for this year's award were announced in July, with one prior winner, two prior finalists and two first-time finalists earning nominations from the aftermarket for the industry's highest honor. Over the next few months, we will be learning more about these organizations and what makes them so unique. Today we learn more about Freedom Truck & Trailer.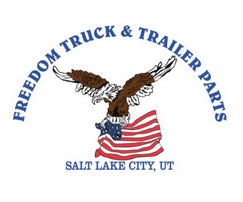 This is Freedom Truck & Trailer's first nomination for the Distributor of the Year Award.
When was your business founded, and by whom?
In 2002 by Grant Sorensen, Carlton Fong and Lenard Fong.
How many locations do you have? (Please list the cities)
One location in Salt Lake City, which covers retail for Utah, Idaho, Wyoming, Colorado and parts of Nevada with outside salesmen. Our wholesale department ships across the USA shipping pallets of brakes and gear units and working on two more acquisitions before the end of the year.
How many employees do you have?
We have 22 employees.
How does your business recruit new employees?
We have had a low turnover rate; many have been with us for several years. Most times it's through word of mouth.
What is your company's value proposition?
At the end of the day, it's the product, the service and manufacturing, and the quality because our goal is taking care of and servicing the customer better than anyone else can.
Do you offer any additional services to complement your parts offering?
Freedom also operates our own in-house gear rebuilding shop. The gear shop, under competent direction of experienced staff, can professionally rebuild heavy duty transmissions and differentials. Customers can have confidence that there are no shortcuts. Freedom uses only the highest quality replacement parts in our rebuilding process, offering warranties which are second to none on the parts and workmanship of our units.
In our constant efforts to get our customers' equipment quickly back on the road, Freedom prides itself on already having your rebuilt unit in stock and on the shelf to help minimize your down time.
In additional to its gear shop, Freedom also has a state-of-the-art brake shoe relining facility. We provide each customer with the specific friction materials needed for each specific application and we do so at very reasonable prices, cutting out the "middleman" added costs, by remanufacturing the product in our own facility. Only the highest quality and leading brand names of friction material are used in our relining process.
How do you differentiate your business from your competitors?
Our home-grown philosophy of serving our customers makes all the difference in the relationships we strive to develop with each customer.
Each member on our staff of highly trained parts professionals is proud to be part of an organization that recognizes each of their contributions and which provides opportunities for growth and advancement. We never forget that our customers' success and satisfaction determine our success and satisfaction.
What is the biggest challenge facing your business in 2023?
Economics with the economy and fuel prices.
Why do you believe the heavy-duty aftermarket has nominated you for this award?
Freedom has realized consistent growth since its early beginnings, and currently occupies its modern 30,000 sq.-ft., warehouse and manufacturing facility in the heart of Salt Lake's transportation and industrial hub.
We are proud of our long-term commitment to our customers and vendors. We treat our vendors and customers as part of our company and culture and have thereby built lasting relationships with them.
Stay tuned, as in two weeks will learn more about 2023 award finalist Tidewater Fleet Supply/TNT Parts.