Freightliner Trucks announced Wednesday production is underway on the 126 in. BBC day cab and 72 in. raised roof sleep cab models of its new Cascadia.
Freightliner says the new model was designed and engineered with an emphasis on cost of ownership solutions, and sets the benchmark for fuel efficiency, safety, connectivity, quality, uptime and driver experience.
The company says the new Cascadia (equipped with AeroX and Integrated Detroit Powertrain (IDP) including a GHG17 DD15 engine, DT12 with Intelligent Powertrain Management (IPM4) and 2.16 direct drive axle ratio) boasts up to an 8-percent fuel economy increase over a similarly spec'd 2016 Cascadia Evolution. Freightliner debuted the new model last September.
"It's exciting to see trucks rolling off the assembly line and being delivered to customers. The new Cascadia delivers fuel efficiency, connectivity, safety, quality and a premium driver experience for our customers," says Kary Schaefer, general manager, Marketing & Strategy for Daimler Trucks North America.
The new Cascadia is said to be available with the IDP, which combines the fuel-efficient downsped 400 hp,1,750 lb.-ft. of torque, the Detroit DD15 or Detroit DD13 engines with the Detroit DT12 automated manual transmission, IPM4 and corresponding Detroit steer and rear tandem axles. Freightliner adds the new Detroit rear axles have features such as lower sump volume, gear-set coating, friction reducing gear cutting and optional Axle Lubrication Management that reduces parasitic loss and improves fuel economy.
Additionally, the OEM says standard enhancements such as an upper door seal, elliptical-shaped mirrors, sloped hood, bumper with integrated air deflector and integrated antennas all minimize drag. The optional Aero and AeroX packages provide additional aerodynamic benefits to manage airflow, including a low ground clearance bumper with flexible air dam, longer side extenders, lower chassis fairings, drive wheel covers and proprietary-designed drive wheel fairings, Freightliner says.
The new Cascadia also is loaded with improvements ranging from the layout of gauges and switches in the driver compartment to features inside the sleeper area, including a new Driver Loft configuration.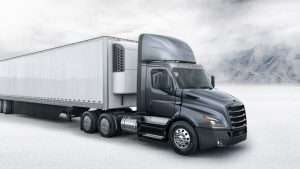 Available in a variety of cab configurations, Freightliner says the new Cascadia is all about customizable living-space options that address the realities of professional drivers while they're on the road. The sleeper area has been redesigned to include more cabinets, as well as larger spaces that can accommodate standard appliances. For entertainment, a sturdy television swivel bracket holds up to a 26 in. flat panel TV for movie-theater-like viewing. Double-bunk and a new Driver Loft option is also available that incorporates a unique folding workspace/dinette with a full-size Murphy style bed. A new cargo shelf option allows drivers to store containers or duffle bags easily. If an upper bunk is spec'd, it will come standard with an easily released telescoping ladder, making getting into the upper bunk a breeze, the company says.
New splayed frame rails also create more room in the engine compartment to allow technicians easy access for maintenance tasks, Freightliner says, and most electronic control units are now stored securely in the cab in the new eVault for easier convenience and protection from the elements. In front of the eVault is the fuse and relay box which is easily accessible with no hand tools needed. To increase dash component accessibility, Freightliner says the dash panel was designed to be easily removed. Additionally, the standard two-piece front bumper of the Cascadia can be quickly removed within minutes.
The optional Detroit Assurance 4.0 suite of safety systems includes Active Brake Assist that now provides full braking on stationary objects, moving pedestrian warning and partial braking, Adaptive Cruise Control and Lane Departure Warning with optional video capture. Freightliner says this proprietary safety suite includes driver-friendly controls and is seamlessly integrated into the truck's dashboard, engine and transmission electronics and can enhance driver safety by mitigating potential collisions.
Freightliner says customers will also benefit from the proprietary connectivity platform introduced by Detroit exclusively for the new Cascadia. The new platform, which will use cellular service from AT&T, will facilitate the delivery of current Detroit Connect features, such as Virtual Technician remote diagnostic service, as well as new features designed to provide deeper insights on fuel efficiency and safety performance. The introduction of the new platform also marks the debut of Detroit Connect Remote Updates which enables over-the-air engine parameter programming and Detroit-initiated remote engine and other powertrain electronic controller firmware updates. Remote Updates features will be available to customers during the second half of 2017.