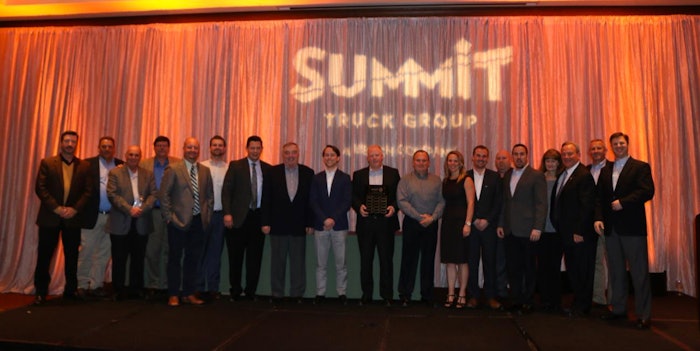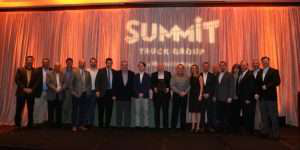 Summit Holdings recognized its employees through individual and team awards presented at its Annual REACH Recognition Dinner and Award Ceremony on Thursday. More than 80 Summit employees and guests met in the Dallas area to honor individual employees, departments, and dealerships for their efforts in 2016.
On a quarterly basis, one Summit dealership is named REACH Location of the Quarter. For 2016, those locations included Farmington, N.M; Memphis, Tenn.; Tulsa, Okla.; and Wichita, Kan. Based on overall 2016 performance, Summit says the Wichita, Kan., dealership was announced as Summit's REACH Location of the Year for 2016, with General Manager Dave McGinley accepting the award on behalf of his entire team of 40+ employees.
"This annual event is one way we recognize our employees who strive every day to live our REACH values of Reward Results, Empowerment, Accountability, Committed, and Hero. I am proud of the high caliber of employees who support our customers," says Justin Fink, Summit CEO.
Steve Dupuis, Summit's new chief operating officer, who has been with the company less than a month, added, "I was impressed with the efforts of the Summit Team and their pride in receiving REACH awards."
Individual employee awards were presented to Todd Gohl (Parts Manager, Albuquerque N.M.), Rory Michie (Service Manager, Albuquerque N.M.), Adam Markou (Bus Sales Representative, Oklahoma City Okla.), Bobby Hipps (Lease & Rental Service Manager, Lowell Ark.), and Melody Dyer (Office Manager, Albuquerque N.M.). Team awards were presented to the Parts Department of Kansas City, Mo., the Service Department of Albuquerque N.M., the Truck Sales Department of Springfield Mo., the Lease & Rental Department of Tupelo Miss., and to support department Finance & Insurance South.
A special Hero Award, determined annually by Fink, was presented to Ben Roberts, Sales Operations Support Manager, who works out of Summit's Central Support Office in Lewisville, Texas. A Career Achievement Award was presented to Controller Larry Mitchell, who has spent 32 years at Summit Truck Group and Diamond Companies (before their merger with Roberts Truck Center to form Summit in 2014). Summit's Wichita Falls, Texas, location also was presented with the Safety Location of the Year Award.