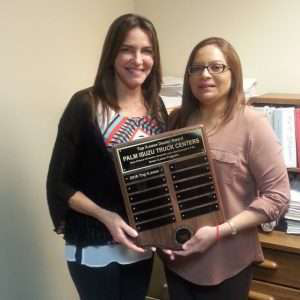 Palm Isuzu Truck Centers of Fort Pierce, Fla., has been named the Top iLease Dealer of 2016 by Isuzu Finance.
The award was presented by Isuzu Finance, which celebrates its 10-year anniversary in 2017. The Top Isuzu iLease Dealer Award is given to the Top iLease Dealers by Isuzu Finance and is honoring the Top iLease Dealers in its nationwide network, the company says. .
Palm Isuzu Truck Centers says it is honored to receive this award and feels privileged that the hard work of the finance team is awarded.
Diana Weiger, sales director and Romah Rampersad, finance manager of Palm Isuzu Truck Centers "have set the highest marks to the iLease program in 2016," says David Weiger, president and CEO of Palm Truck Centers "This award is a testament to their skill and dedication. It is an honor to the whole Palm Isuzu Truck Centers Finance staff."