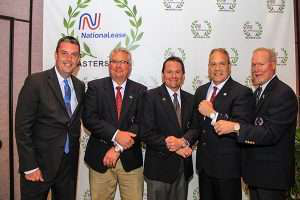 NationaLease has introduced its inaugural Masters Club Hall of Fame class.
NationaLease says its new program debuted recently during its annual Masters Club ceremony. Four elite winners who had achieved Masters Club Awards for outstanding sales performance for 10 consecutive years composed the inaugural class of inductees. They are:
Mark Quick, Brown NationaLease, Des Moines, Iowa
Fred Schmidt, McMahon Truck Leasing, a NationaLease Member, Charlotte, N.C.
Matt Svancara, Aim NationaLease, Girard, Ohio
Ray Swesey, Brown NationaLease, Des Moines, Iowa
NationaLease says each inductee received a Rolex watch and a commemorative plaque that will be permanently displayed at NationaLease's corporate headquarters in Downers Grove, Ill.
"To see Mark, Ray, Fred, and Matt's achievements etched among the pioneers of this great entrepreneurial company is further testament to their embodiment of our values of accountability and exceptional customer service," says NationaLease Senior Vice President of Sales Joe Gallick.