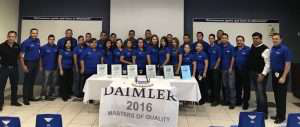 Phillips Industries' Electrical Harness Division (EHD), located in Arteaga, Mexico, has received DTNA's Masters of Quality Award for 2016.  EHD has been recognized with this honor consecutively every year since 2011.
Phillips EHD is one of 48 Daimler suppliers that have met the high standards of the Masters of Quality for 2016.  Achieving this award requires outstanding performance in every functional area of the company: on-time delivery, pricing and quality, accounting, customer service, warranty and engineering support, the company says.
"Daimler Trucks is supplied with components from over 1,000 different suppliers across the world.  Your role and continued involvement in our quality initiatives to improve products and support, continues to be instrumental in achieving our goals and securing your position in a long-term relationship," says Adrian Garcia, DTNA supplier management, during the presentation of the award on July 21.
Filiberto Coello, director of Phillips production system/GM Saltillo plant, adds, "Congratulations to the entire EHD team for this big achievement; meeting the Masters of Quality criteria for six consecutive years is not an easy job, however, the passion and commitment of everyone at EHD is what makes the difference."