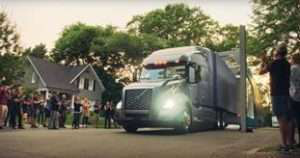 Volvo Trucks North America's "World's Largest Unboxing" film (shown below) is setting records in more ways than one.
Just a little more than two weeks since its launch, the film has been viewed nearly 25 million times, making it Volvo Trucks North America's most-watched film of all time. The film's success has also earned it the number three spot on Ad Age's July 25th Viral Video Chart, which tracks brand-driven viral videos.
The film premiered July 11 and has since captured the hearts and minds of millions of people who not only watched it, but liked, shared and commented – engaging over 740,000 times, the company says.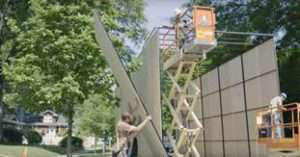 "Response to the 'World's Largest Unboxing' film has been tremendous and beyond our expectations," says Magnus Koeck, vice president of marketing and brand management for Volvo Trucks North America. "Not only did we set a Guiness World Records title for "largest item unboxed," we set a record for the most-watched film from Volvo Trucks North America."
The film was produced to introduce Volvo Trucks' all-new VNL series, which defines the shape of trucks to come. Featuring groundbreaking technologies for today's long-haul customers and professional drivers, the new VNL series includes several innovations that help improve efficiency, productivity, safety and uptime.
Shot on May 12 in Charlotte, N.C., the film captures 3-year-old Joel Jovine as he opens a "toy truck" box measuring 80-ft. long, 14-ft. wide and 18-ft. tall containing a new Volvo VNL 760 tractor and trailer. Jovine then climbs in the cab for a firsthand look, followed by a ride with a professional driver.
"Achieving this record number of views required an incredible amount of effort from our team, but the results speak for themselves," Koeck says. "It was an unforgettable experience, and we're proud to have been able to share it with Joel, Guiness World Records and so many Volvo Trucks fans from around the world."
A behind-the-scenes video captures the great lengths the crew went to in order to completely encapsulate the Volvo VNL with typical box materials, including cardboard and cellophane, though reinforcing materials were allowed to be used. To count for the record, the box had to be opened manually without tools, and the Volvo VNL had to be removed from the box without destroying the box during the process.