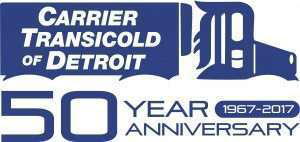 Carrier Transicold of Detroit is commemorating 50 years of serving eastern Michigan's transport refrigeration providers, those vital links of the "cold-chain" that safely deliver food and other refrigerated essentials to supermarkets, restaurants, food service operations and more.
On Saturday the dealership celebrated its golden anniversary with customers and employees at an open house at its facility located at 1180 John A Papalas Drive in Lincoln Park.
"Our dealership was built on the principles of respecting customers and providing them exceptional service at a fair price," says Mark Sparkman, president and owner of the Carrier Transicold of Detroit, which was founded in 1967 by his father, Earl Sparkman, and uncle, John Sparkman. "We are incredibly proud that this formula has sustained us and helped us grow over five decades. Our founders, our loyal employees and our great customers deserve the credit for our continued success."
Established as Transport Refrigeration Service by the now-retired Sparkman brothers, the operation was among the earliest to join the Carrier Transicold North America dealer network in the 1970s.
"Carrier Transicold of Detroit is an important member of the Carrier Transicold family and we are delighted they've achieved this half-century milestone," says Tom Ondo, vice president and general manager, Truck, Trailer, Rail Americas, Carrier Transicold. "Mark Sparkman has been with the company for 37 of those 50 years, giving him an exceptional understanding of all facets of the business, while establishing outstanding relationships with his customers and team."
Since 2006 Carrier Transicold of Detroit has operated out of its current 30,000-sq.-ft. facility, where it sells, installs and services truck, trailer and shipping container refrigeration units that help to preserve and protect perishable goods as they move from farm to fork. The dealership has 28 employees, including 14 service technicians, and it operates six mobile units enabling 24/7 emergency service, the company says.
Carrier Transicold of Detroit has been consistently recognized for outstanding performance by Carrier Transicold, having been named Dealer of the Year five times and achieving Carrier Transicold's NextLevel2 Platinum Award for customer satisfaction, business investment, service proficiency, sales performance and growth every year since the award was established, the company adds.