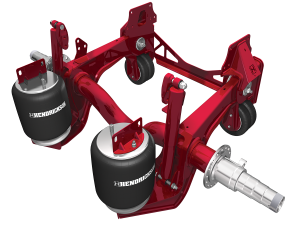 The introduction of a new Hendrickson tandem axle for Freightliner tractors and a multiple new lighting options for Western Star models highlighted a bevy of product announcements from the Daimler Trucks North America (DTNA) brands Monday at the North American Commercial Vehicle Show (NACV) in Atlanta.
Freightliner's biggest announcement was the news it has partnered with Hendrickson to offer a Hendrickson OPTIMAAX 6×2 liftable forward tandem axle exclusive to the new Freightliner Cascadia.
According to Freightliner, the new OPTIMAAX design provides a boost in fuel efficiency and a weight reduction by 300 to 400 lb. over a comparable 6×4, allowing trucks to either carry additional weight or save fuel. Automated controls sense the load capacity and either lift or lower the axle without relying on the driver. This maximizes efficiency with a raised axle, enhancing traction and helping fleets that focus on weight reduction and want to optimize fuel efficiency.
Freightliner adds that the OPTIMAAX 6×2 axle design is compatible with drum and air disc brakes, and the axle is fully welded, not bolted, offering additional strength and durability.
"This partnership combines a leader in heavy-duty trucks with a leader in suspension technology," says Mike McHorse, manager, on-highway product marketing, Freightliner Trucks. "It's one example of how we listen to and focus on expanding our applications offerings to benefit our customers' businesses."
The Hendrickson OPTIMAAX axle will be available on the new Cascadia in the second quarter of 2018.
Freightliner also announced Monday its flagship Cascadia is now available in mid-roof cab configurations for regional overnight haulers and segments such as bulk haul and flat beds. The configurations include 48-, 60- and 72-in. mid-roof XT sleeper cabs in both 116- and 126-in. BBC platforms. All three configurations offer two levels of aerodynamic packages, the Aero or AeroX, Freightliner's most fuel-efficient specification.
Customers can place orders now for delivery in January of 2018.
"The addition of the mid-roof configuration allows more customers in different applications to experience the benefits of the new Cascadia," adds McHorse.
The company says other features include:
A service-friendly electronic vault (eVault) that offers convenience and protection from the elements while also increasing uptime.
All LED-lit interior and exterior lights, making the lighting system more maintenance-friendly than ever.
An ergonomic dashboard and display screen designed for the driver. Its layout helps drivers access gauges and switches without reaching, and includes an easy-to-read instrument cluster display.
Detroit Connect and Detroit Assurance 4.0 seamlessly integrated into the new Cascadia, provide enhanced fleet management, increased uptime and improved safety.
Improved fuel economy compared to previous models, an upgrade stemming largely from rigorous tests in DTNA's proprietary full-scale wind tunnel and millions of miles of real world testing.
A Driver Loft option is available in the 72 in. mid-roof XT configuration featuring a two-seat dinette/work table and opposing seating. These seats can be folded flat to allow a full Murphy-style bed to swing down in less than 15 seconds.
Freightliner's severe-duty products also were received several updates Monday, including:
The introduction of the Allison 4700 RDS Automatic Transmission for the Freightliner 114SD and 122SD, which provides improved start ability, two reverse gears, enhanced PTO options and the durability required for severe applications;
LifeGuard RollTek Seats: In the unlikely event of a rollover, the LifeGuard RollTek side-impact airbags inflate, the seat belt tightens and the air-suspension seats compress to the lowest position to provide additional protection to the driver;
The entire vocational product line has been updated with new standoff brackets and optimized routing and clipping of chassis electrical and plumbing harnesses to provide a cleaner installation and greater long-term durability. The body and equipment mounting is also simplified with more consistent routing paths;
M2 LED Headlights: Freightliner M2 106 and M2 112 trucks can be spec'd with modular LED headlights to improve night visibility and reduce maintenance costs;
Bendix Tire Pressure Monitoring System: Bendix Tire Pressure Monitoring System is now available for Freightliner's entire vocational product line offering the potential for improved tire wear, fuel economy and overall vehicle performance;
122SD Auto Hauler Package: The Freightliner 122SD is now available with a low profile auto hauler package. The package, made possible in collaboration with Fontaine Modification, Inc., lowers the laden roof height to approximately 100", making it ideal for auto hauler applications that require a sleeper berth.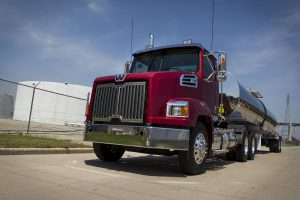 Western Star also announced four product improvements on Monday, making updates to its lighting, tire and battery options.
"We're continually adding new options that contribute to the truck's performance and our customers' bottom lines," says Samantha Parlier, vice president, marketing and product strategy, Western Star Trucks.
"Western Star trucks are tough enough to take on any job whether it's a long haul on the road or tackling a construction site. Our new offerings reinforce our commitment to helping our customers find the best solution for their specific need."
The company says options now available include:
Michelin X Multi D Tires: Available for Western Star 4700, 4800, 4900 and 5700XE truck models, the new Michelin X Multi D tire is a factory-installed option designed for best-in-class mileage performance and scrub resistance with no compromise to traction. Best suited for regional applications such as dry van LTL, food & beverage, pick up & delivery, tankers, energy, and construction, the Michelin X Multi D tires have a co-extruded compounding scrub resistant rubber for maximized tread life.
New Forward Lighting Option for 4700 Models: The Western Star 4700 can now be spec'd with factory-direct H4 halogen headlight bulbs. The bulbs provide a brighter light than regular incandescent bulbs for better visibility. The cost-efficient H4 bulbs are readily available and easy to install, so drivers can quickly replace them as needed and get back on the road.
In-Cab 4-Battery Box: Western Star has expanded the capacity of its in-cab battery box to hold up to four batteries. Available for 5700XE day cabs, the batteries are under the passenger seat instead of the side of the chassis. This option can help extend the life of the batteries by protecting them from extreme weather conditions, road spray and harsh chassis vibrations. Customers can also spec a shorter wheelbase tractor, resulting in better wall-to-wall turning radius, lighter tractor weight, and increased fuel economy.
New Forward Lighting Option for 4800 and 4900 Models: Now available for Western Star 4800 and 4900 truck models are factory-installed LED headlights. LEDs are particularly effective for night-time driving or foggy road conditions because they produce an illuminating, piercing light without blinding other road users. A low maintenance headlight option, LED headlights use less power from the truck, making them energy and cost-efficient over a longer period.