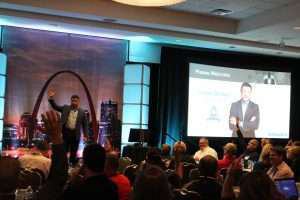 What's on your schedule today? How about tomorrow? How preoccupied is what you need to do next impacting what you're doing right now?
Kevin Brown says having a busy schedule is part of business today. It's not easy, not in the slightest, but Brown says it's also not unique. You're likely just as busy as your competitors, your suppliers and your customers. But when it comes to the latter, how you manage your endless task list can be the difference being a choice, or 'the choice' for your customer.
Think about your personal life. Brown says people and businesses who understand the value of now and being present and engaging in any customer interaction as the businesses we come back to time and again. Why?
Because they've shown us that we matter, he says.
"The gateway of building a great business is to be helpful," says Brown, speaking Thursday at the Karmak Leadership & Technology Conference in St. Louis. "But its heroes who help people … with no strings attached. It's mastering that dot, dot, dot that transcends the baseline of helpfulness."
Moving past the status quo is a big deal to Brown. He says every business today is built on customer service and yet the bar for customer interactions in most industries have never been lower. He jokes about the fast food industry, "we're just happy when someone puts an arm out the window with a bag of food. It doesn't even have to be our food."
He doesn't understand that, and doesn't know why any business owner would tolerate a similar level of customer interaction in their operation.
"Everything is a condition, requirement, transaction," he says. "We're willing to be helpful when there is a ROI for us."
He believes that deemphasis on helpfulness, on providing the absolute best customer service, comes from a professional culture too hung up on being safe, and being ordinary. Brown spent a lot of time talking discussing heroes during Thursday's presentation because he believes everyone—no matter the job or industry—has the capability to be a hero.
"Heroes are extraordinary people who show up and make a choice to not be ordinary," he says.
Another heroic trait Brown says can transcend customer interactions is deliverability. Giving a customer what they want even when you don't stock or sell it. On this point, he mentions the gold standard: Disney World. Brown says when he and his wife first took their autistic son to Disney World, a chef at their hotel personally went to a store to purchase ingredients to make apple pancakes, his son's favorite breakfast. Nearly a decade later, the family has developed a bond with this chef, and still return to the park to dine with her.
Whether you sell pancakes or truck parts, Brown says there's no reason you couldn't build similarly strong relationships with your customers. Anyone who walks into your store needs something and has chosen you in that moment to help them. Succeeding that space, in that moment, can be the difference between making one sale and a lifetime of sales.
"How often do you make the people who you say are the most important people in the room feel like they are the most important people in the room?" he says. "You have to own that space."