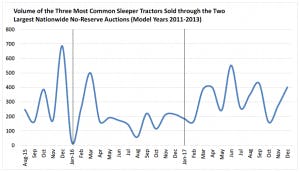 A slip in retail used truck prices isn't yet a cause for concern, J.D. Power states in its January 2018 Commercial Truck Guidelines industry report.
The Class 8 market closed 2017 with the "auction channel looking more stable than the retail channel," J.D. Power states, "although we are not particularly concerned about recent depreciation in the retail sector."
In the stronger auction and wholesale market, J.D. Power states volume for sleeper tractors auctioned in December increased for the second straight month, while pricing was again similar month-over-month. Within its benchmark model, J.D. Power states model year 2013 trucks averaged $28,750, down 7.3 from November; model year 2012 tractors averaged $25,600, identical to November; model year 2011 trucks averaged $23,000, 0.2 percent below the previous month.
During the 2017 calendar year, J.D. Power states four- to six-years-old trucks ran 5.7 percent behind their counterparts from a year ago, and this comparison "should continue to turn less negative due to the extremely low depreciation in the second half of the year."
Numbers weren't as kind the retail market, where J.D. Power states November pricing was off "across the board." The average retail sleeper in November was 77 months old, had 461,211 miles and brought $46,352. Compared to the previous month, J.D. Power states that tractor was one month newer, had 919 fewer miles but brought $1,500 (3.1) percent less money. And compared year-over-year, the November 2017 tractor was three months older, had 10,378 fewer miles and brought $1,287 fewer miles.
Overall, J.D. Power states the retail sleeper market averaged 7.3 percent lower pricing in the first 11 months of 2017 compared to 2016. Among the popular three- to five-year-old cohort, retail selling prices dropped an average of 1.9 percent in 2017, which is in line with the 2 percent drop during 2016. Though J.D. Power also states "unexpected dips this month are due in part to a number of package sales of identical trucks."
Within that cohort, J.D. Power states average prices were as follows:
3-year-old trucks: $64,735, $5,186 lower (7.4 percent) than October
4-year-old trucks: $49,543, $5,457 lower (9.9 percent) than October
5-year-old trucks: $39,340, $2,049 lower (5.0 percent) than October
Year-over-year, J.D. Power states late-model trucks sold in first 11 months of 2017 averaged 5.3 percent lower than the same period of 2016. Even with November's dip, the organization states it expects year-over-year comparison to continue to look more favorable.
On a make and model basis, Kenworth's T680 and the Volvo VNL 730/780 continue to lead the field. Conversely, low volume led to Volvo's 630/670 seeing the biggest monthly drop.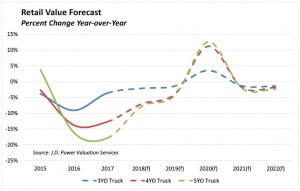 At dealerships, Class 8 sales per rooftop slipped precipitously, from 5.6 to 4.9. J.D. Power states it is not "particularly concerned" about this development, as November is typically not a strong month for sales. Additionally, J.D. Power states calendar year 2017 has run about 13 percent higher than 2016 in terms of volume.
Forecasting ahead, the supply of three- to five-year-old trucks are expected to increase through mid-2019, J.D. Power states, and economic conditions are looking "increasingly positive, which should counteract the downward pressure on pricing to an extent.
"However, the net effect of these factors in 2018 should be to limit depreciation and encourage demand rather than support a pricing recovery."
Over in the medium-duty market, a slip in volume saw pricing trend up again. J.D. Power states November's average medium-duty truck brought $15,031, which was $1,503 (11.1 percent) higher than October and $916 (6.9 percent) higher than November 2016. Class 4 tractors averaged $17,833 in November, $544 (3.0 percent) lower than October. Class 6 trucks averaged $14,475, $114 (0.8 percent) higher than November.
Over the course of 2017, J.D. Power states Class 4 and Class 6 trucks lost 1.7 percent and 2.5 percent of their value each month, respectively. Across the entirety of the truck market, J.D. Power states depreciation "should remain at roughly 2 percent per month in 2018 as moderately increased demand partially counteracts a high supply. Any acceleration in economic conditions will serve to cushion volume-based price declines."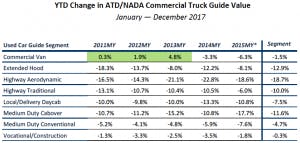 Year-end segment totals
January's industry report also featured data on the monthly, annual and year-to-date changes in Commercial Truck Guide value. Looking at year-to-date change, the biggest price drop segment was highway aerodynamic sleepers, which were down 18.7 percent. Extended hood and highway traditional tractors also slipped by 12.9 and 10 percent, respectively.
For more year-end data and to read the entirety of this month's report, please CLICK HERE.