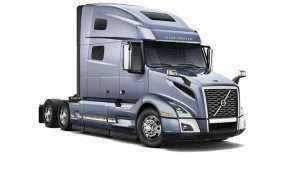 Volvo Trucks North America has unveiled its VNL 760 in a big way.
It's viral video (more than 26 million views online) of the long-haul tractor's "unboxing" is being displayed in New York's Times Square. The video was being shown during the New Year's Eve celebration when approximately 1 million people packed into Times Square.
The Times Square website says more than 355,000 pedestrians pass through Times Square each day, and that number can exceed more than 425,000 on its busiest days. Combining online views with the New Year's Eve crowd and the number of people traversing Times Square daily, more than 38 million people have been exposed to the video, according to an announcement.
"Without a doubt, the unboxing film and reveal of the new VNL series is one of the most widely experienced commercial vehicle campaigns ever in North America," says Magnus Koeck, vice president of marketing and brand management, Volvo Trucks North America. "We're thrilled to bring Volvo Trucks to one of the brightest spots in North America, especially representing the trucking industry on one of the most popular and most crowded nights of the year. The launch of the VNL last year continued to show our leadership in the industry when it comes to both truck production and sharing our accomplishments in new and creative ways."
The Volvo VNL series and its regional haul counterpart combine active safety innovations to help professional drivers reduce fatigue and distraction, making the long-haul and regional haul models the safest Volvo trucks ever, according to the company. The latest on-highway products exemplify Volvo's vision of zero accidents by providing passive and active safety innovations, as well as an efficient and comfortable work environment that's also often a "home" for professional drivers. Modeled after sleek race cars and boats, the interior and exterior design, as well as the technological features, of the VNL series is a nod to the transportation of the future, the company says.
"At Volvo Trucks we are always looking toward the future when it comes to transportation, especially the safety of professional truck drivers and all motorists," says Koeck. "Times Square is a mecca for consumer goods and transportation, and there's no better place to have an ongoing reminder of how Volvo Trucks is driving progress in an industry delivering all those goods used every day."
The video will be shown through the end of March 2018, at 1500 Broadway and West 43rd Street.