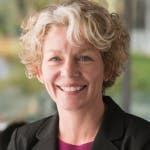 Kary Schaefer, general manager of marketing and strategy for the Freightliner Trucks and Detroit brands with Daimler Trucks North America (DTNA), will serve as the keynote speaker at the 2018 Green Truck Summit. The speech will take place at 8:45 a.m., Tuesday, March 6, 2018, at the Indiana Convention Center in Indianapolis.
Schaefer's presentation will address new and existing technologies such as clean diesel, natural gas, battery power and electrification. It also will touch on active safety systems, connectivity and the pros and cons customers should consider as they evaluate green innovations for their businesses.
The Green Truck Summit, a conference on clean energy innovations for commercial vehicles, is held in conjunction with The Work Truck Show.
"I'm honored to have been selected as the keynote speaker about alternative technologies and their evolving and increasing impact on our industry," says Schaefer. "Innovations in green technologies offer our customers solutions. Green means much more than tail pipe emissions; investments in new technologies offer ways to reduce cost and waste while increasing uptime and efficiency."
DTNA's commitment to green technologies is part of parent company Daimler AG's global "Shaping Future Transportation" initiative. Launched in 2007, the initiative reduces criteria pollutants, carbon dioxide and fuel consumption through the use of clean, efficient drive systems, including clean diesel and alternative fuels.