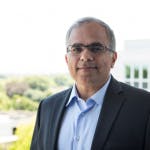 Daimler Trucks North America (DTNA) announced Wednesday that Sanjiv Khurana has been appointed to the position of General Manager of Trucks Connectivity, effective Feb. 1, 2018.
In this newly created position, Khurana leads DTNA's connected vehicle solutions and spearheads efforts to ensure customers receive critical insights that allow them to achieve maximum efficiency, uptime and safety. The position reports directly to the CEO, DTNA says.
In his most recent role, Khurana was president of Detroit Diesel Remanufacturing LLC, a DTNA subsidiary. Previously, he served as CFO of Daimler India Commercial Vehicles, where he was instrumental in the launch of the Daimler truck business in India.
"Sanjiv is the ideal fit for this crucial new position," says Roger Nielsen, president and CEO of DTNA. "He brings a deep knowledge of DTNA, technical and financial acumen and a drive to see how much truck connectivity can accomplish in providing our customers with digital solutions imperative to their success."
"I am excited about the new challenges," Khurana says. "Our vision is to provide our customers the best connected truck experience and help them get the best performance out of their business. Connectivity will transform the trucking industry and DTNA is deeply committed to this technology. I am determined that we will continue to lead in this important field by developing innovative products, services and business models."
DTNA has been at the forefront of putting truck connectivity and telematics to work on behalf of customers, improving their uptime business performance. With the introduction of Detroit Virtual Technician in 2011, DTNA was the first OEM to offer remote diagnostics using factory-installed hardware. Over the past several years, DTNA says it has deepened its connectivity capabilities with the introduction of the Detroit Connect suite of connected vehicle services, which also includes Detroit Connect Analytics and the recently launched Remote Updates. All Detroit Connect services are accessible via the Detroit Connect portal, which helps fleet managers access and analyze vehicle fault event and performance data, further deepening their knowledge about overall fleet health, the company says.
"Customers are responding to the innovative technology offered by Detroit Connect and it's our responsibility to provide new capabilities that not only meet, but anticipate, their needs," says Khurana. "Our customers have become increasingly sophisticated in how they are analyzing and implementing data captured and transmitted from their fleets, and DTNA will continue to provide the best solutions that meet their data needs and evolve their businesses."