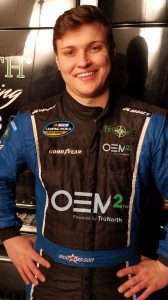 TrüNorth Warranty Programs of North America will extend its partnership from the NASCAR K&N Pro Series East (NKNPSE) with Reid Wilson into his NASCAR Camping World Truck Series (NCWTS) racing.
"We're proud of Reid's racing accomplishments," says John Gates, TrüNorth senior vice president. "We are excited to be a part of his next big step in NASCAR."
This month, TrüNorth rolled out its OEM warranty, OEM2 Powered by TrüNorth, and will be featured on the No. 20 Young's Motorsports Chevrolet driven by Wilson. OEM2 Powered by TrüNorth offers unique benefits well beyond traditional OEM warranties, providing customers added assurance in protecting their commercial asset investments by lowering the risk of unexpected failure costs beyond ordinary factory warranties, according to the company.
"I'm honored to represent TrüNorth," says Wilson. "They've made it possible for me to advance up the NASCAR ladder. The NASCAR Camping World Truck Series is the perfect place for them to connect with their market because many people in the trucking industry are NASCAR fans."
Young's Motorsports recently announced the addition of Reid Wilson to their driver lineup in the No. 20 Chevrolet Silverado. The 21-year-old is set to make his NCWTS debut during the Alpha Energy Solutions 250 at Martinsville (Va.) Speedway March 24.
Over the past two years, Wilson has competed part-time in the NKNPSE driving the No. 66 TruNorth Warranty Programs Chevrolet with Young's Motorsports. The Huntersville, N.C., native is ranked 10th for best on track production of all NASCAR K&N Pro Series drivers and is currently ranked in the top-75 NASCAR Monster Energy Cup Series prospects by MotorsportsAnalytics.com.
Wilson also will use his NCWTS debut to promote the Muscular Dystrophy Association (MDA). He is a member of the MDA Muscle Team, a group of professional athletes that volunteer to raise awareness and funds for MDA research and services. Wilson also volunteers each summer as an MDA Summer Camp Counselor.
"I am really excited to get behind the wheel of the No. 20 OEM2 Powered by TrüNorth truck at Martinsville," says Wilson. "I can't thank TrüNorth and Young's Motorsports enough for providing me this opportunity to drive and also to allow me to bring awareness to MDA, an organization I have been a part of for 10 years. March is National MDA Shamrock month and being able to put them on display at a NASCAR event will bring even more attention to this great cause."