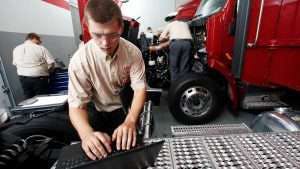 It was nearly five years ago when Peterbilt Motors Company entered into an agreement with Universal Technical Institute to develop a first-of-its-kind OEM-specific technical training program for the commercial trucking industry.
When it was first introduced, Peterbilt's goals for the program were measured. The company knew one 12-week training program with a dozen students wouldn't solve its dealers (or the industry's) technician shortage problem, but by creating such a program it did give Peterbilt dealers a true talent pipeline from which to draw on.
It would allow the OEM to recruit technical talent from UTI's ranks and train them directly and exclusively on Peterbilt tractors, ensuring when they hit the workforce, they'd land in a Peterbilt bay. It was a base that could be built upon, and five years later, it has done that and so much more.
With the graduation of its 45th class this week, the Peterbilt Technician Institute (PTI) program has now expertly trained and funneled 439 professional technicians to the Peterbilt dealer channel in less than five years. The program has grown from a single class in Dallas to four programs at three UTI facilities (Dallas/Fort Worth, Lisle, Ill., Eaton, Pa) in the United States, with an associated program in Canada (Winnipeg, Manitoba). It has become Peterbilt's strongest and most effective response to the technician shortage and, according to PTI Director Brian Brooks, a true differentiator for Peterbilt when competing for top technician talent in the crowded heavy-duty job market.
"I think the proof is in the pudding," says Brooks. "We have dealers telling us they aren't going to hire anybody else unless they come out of the program … Our placement percentage is more than 95 percent, and our retention rates for the techs who complete the program is almost 90 percent."
Brooks says the success of the program can be traced to three important pillars: student recruiting, curriculum and educators.
Regarding the former, Brooks notes the Peterbilt Technician Institute program is not for novices. The 12-week course has a number of prerequisites, including a 3.5 GPA, 97 percent or better attendance rate at a post-secondary diesel education program and a clean drug screen. It is designed as a capstone for tech students who have completed their formal training to become experts on the advanced systems found on today's Peterbilt equipment. The standards are high, but for students accepted into it, there is no fee. Peterbilt covers all expenses. To Peterbilt and its dealers, Brooks says the investment is money well spent.
"We are able to get students out of there who are trained the Peterbilt way. They will fix the truck right the first time," he says.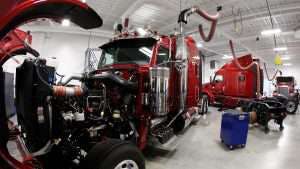 During the 12 weeks, PTI allows students to earn Peterbilt certifications on ten vehicle systems: 101 Truck Fundamentals, 200 HVAC, 203 Conventional Electrical, 205 Hands-On Electrical, 205a T/S Relay Circuits, 208 Suspension, 222 Paccar MX Certification, 223 MX-13 Powertrain Diagnostics, 261a Model 579 Service Training, Peterbilt Software and Applications. Additionally, because all PTI teachers were technicians earlier in their careers, Brooks says students also receive real-world guidance and valuable soft skills training to better understand what it's like to work in a business dealer service center.
Brooks says some PTI instructors say "I teach them more about life than working on a truck," and that training does not go unnoticed. He says Peterbilt dealers are consistently impressed and appreciative of the skill and professionalism of the program's graduates, and its overall success has motivated the OEM to begin developing a Master Technician program for existing technicians.
Looking ahead, Brooks says Peterbilt is on pace to graduate its 500th student from the program later this year. In less than five years he acknowledges that's an impressive stat, but that moving forward, Peterbilt wants to make its PTI program even larger. It wants more students, more classes per year and, if necessary, more venues to move students into its dealer channel.
"If you look across our network we have 3,000 to 4,000 technicians and industry turnover is between 70 to 80 percent. By no means is this program going to satisfy all of our needs as it is right now," he says.