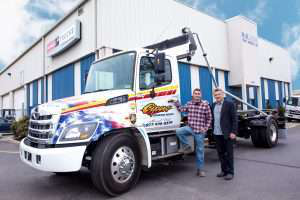 H.K. Truck Center has celebrated the delivery of its 1,000th Hino truck to J. Cipas Container Service with a ceremony held at its facility in South Plainfield, N.J.
The 1,000th truck is a 2018 Hino 338 outfitted with an American Roll Off container body. Hand-painted by Manalapan, N.J., artist Harry Henkel, the truck is wrapped with a billowing American flag and features the United States Army symbol on its hood. The Cipas family has two sons who are in active service and the artwork is a proud display of their support of the U.S. Army.
Nick Cipas, one of the founding partners of J. Cipas Container Service, was in attendance to receive the truck. "Hino was highly recommended from other companies in our industry. One in particular had purchased Hino trucks in 2008 and they are still on the road, with hundreds of thousands of miles on them and no major service work done. We picked Hino because of their reputation for uptime as well as their really good warranty," Cipas says.
"We're very happy to deliver our 1,000th Hino," says Henry Knabe Jr., president of H.K. Truck Center. "It is through Hino Truck's support as well as the dedication of our great team that we are able to reach this milestone. As we continue to grow, we will continue to meet our high standard of excellence with each customer we serve."
H.K. Truck Center has been in business for more than 35 years and is only one of 12 dealers throughout the United States to receive the prestigious status of Certified Ultimate Hino Dealership, an honor awarded because of its continual demonstration of exemplary service to its Hino customers.
"On behalf of Hino and myself, I would like to congratulate H.K. Truck Center on this monumental achievement as well as thank Nick and J. Cipas Container Service for their support. Our recent introduction into the Class 8 market with the Hino XL Series rounds out a product lineup setting a new benchmark in the industry. We look forward to continued growth while supporting both our dealer and our customers with the Ultimate Ownership Experience," says Gary Mickiewicz, Hino Truck's regional vice president of sales.
"It's been a very easy and convenient process working with the sales team at H.K. Truck Center." Nick Cipas states. "We are looking forward to many years of trouble-free hauling."