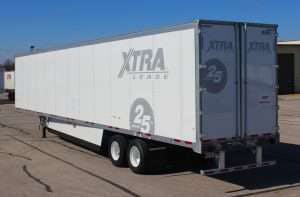 XTRA Lease announced Monday it is celebrating its 25th anniversary in a big way, with a silvery new look for its 2019-model trailers and cargo sensors to help customers manage their trailers better.
XTRA Lease says it will add approximately 9,000 new trailers to its fleet in 2018. Dry vans and reefers will be adorned with silver logos and anniversary seals, while all new dry vans will receive cargo sensors – available for free on all rentals and leases.
"We consider our 25th a great milestone," says Bill Franz, CEO. "But it's not just a celebration of longevity. It's an opportunity to reflect on advances in trailer technologies and fleet productivity that we've extended to fleets. And to remind customers that they can count on us to embrace innovations in the future that will produce more cost-efficient trucking operations."
Just last year, XTRA Lease says it introduced a new trailer tracking system and portal, powered by SkyBitz, packed with landmarking, alerts and other features.
This year, new dry van tracking units will include free cargo sensors, which the company says will enable fleets to:
Know when their rental trailers are loaded and unloaded
Improve dispatch and turn time
Get valuable detention data
In addition to dry vans and reefers, XTRA Lease also will add more than 600 new flatbeds and chassis throughout its branch network in 2018.
XTRA Lease says this year's technology investment is not new for the company. XTRA Lease regularly invests in new trailer orders, adding more than 52,000 trailers in recent years with fuel-efficient features. The average XTRA Lease trailer age is less than five years old, making it possible for fleets of all sizes to access newer, low-maintenance trailers.
Formed in 1993 from a merger between Strick Lease and AJF Leasing, XTRA Lease is the largest provider of trailer rentals and leases in the U.S. with more than 50 locations and nearly 85,000 trailers, the company says.