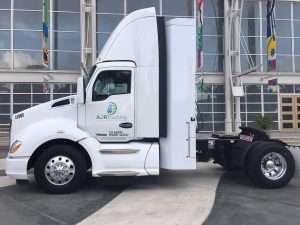 Representatives from the California Natural Gas Vehicle Partnership, Kenworth Truck Company and AJR Trucking have announced delivery of the first near-zero emission, 12-liter natural gas truck. A ceremony, during the Advanced Clean Transportation (ACT) Expo in Long Beach, Calif., had co-owners of port drayage and mail delivery trucking fleet AJR Trucking, Jack and Chris Khudikyan, on hand to receive the keys to the first truck equipped with the Cummins Westport 12-liter ISX12N engine. The ISX12N is the only engine to be certified by the California Air Resources Board as meeting the California Air Resources Board's toughest optional Low NOx standard, which is 90 percent cleaner than current federal EPA emission standards, according to an announcement.
"This new truck, which is the cleanest heavy-duty truck commercially available on the market today, is the first of many that will hit the road this year and will help transform the heavy-duty transportation market" says Todd Campbell, chair of the California Natural Gas Vehicle Partnership (CNGVP), an alliance of private and public entities interested in the deployment of low-emission natural gas vehicles throughout the state, and vice president of public policy and regulatory affairs at Clean Energy Fuels Corp. "With seven out of 10 of the nation's most polluted cities here in California, an immediate deployment of ultra-clean natural gas trucks is vital to improving the air quality throughout the state."
The truck was purchased with funds from the Proposition 1B (Prop 1B) incentive pool managed by the South Coast Air Quality Management District (SCAQMD). Prop 1B funds projects that reduce emissions from goods movement operations by helping eligible fleet owners replace their aging diesel trucks with up to $100,000 toward the purchase of a new clean-burning natural gas truck.
"We are pleased to see organizations like AJR Trucking take advantage of Prop 1B funding, switching to a cleaner fuel to reduce diesel air pollution, a toxic air contaminant, and helping the region achieve its clean air goals," says Dwight Robinson, governing board member of the SCAQMD, the local air pollution agency for the greater Los Angeles area. "AJR Trucking is a prime example of a fleet who leveraged available incentives to clean up the environmental impact of their operations."
"We are delighted to deliver this special Kenworth T680 with the Cummins Westport ISX12N engine to AJR Trucking," says Kurt Swihart, Kenworth marketing director. "It signifies the further move toward near-zero emission vehicles. Our customers have requested a 12-liter compressed natural gas (CNG) powered Kenworth truck. This is a game changer in bringing to market a 400-horsepower engine for vocational and regional use, and we're proud to be the first truck original equipment manufacturer to present keys to a customer."
According to Jack Khudikyan, AJR Trucking has been testing a "pre-commercial" CNG equipped Kenworth T680 for close to a year. "We wanted to get familiar with how a CNG-equipped engine worked and how re-fueling would go," he says. "That experience told us it was very viable. That led us to put in motion a contract bid with the USPS, and we gained the business due to providing mail service with a fleet of Kenworths and the new near-zero engine. We plan to further our commitment to CNG with more near-zero emission trucks, in more routes, this year."
After the ACT Expo, the Kenworth T680 will go into service delivering mail from Santa Clarita (northern Los Angeles) to Los Angeles International Airport. In subsequent weeks, 19 more T680s with the new 12-liter Cummins Westport engines will be delivered and placed into service to help clean up Southern California's transportation corridors. The Kenworth T680s were purchased through Inland Kenworth – Montebello, according to the announcement.
The Southern California Gas Company (SoCalGas), a CNGVP steering committee member company, worked with AJR Trucking to submit 46 Prop 1B applications, assisting the trucking company with obtaining funds to purchase the Kenworth T680s. Many CNGVP member companies provide support for fleets to develop competitive applications for funding to offset some of the incremental cost of switching from older, higher-polluting diesel trucks to clean natural gas vehicles.
While the current Prop 1B solicitation is now closed, there are various incentive programs available throughout the year, managed by the air districts. The SCAQMD's Carl Moyer incentive program is open to fleets that operate in Orange County and major portions of Los Angeles, San Bernardino and Riverside counties until June 5. Additionally, the San Joaquin Valley Air Pollution Control District recently established a new grant incentive option for its Truck Voucher Program that would replace existing heavy-duty trucks with the cleanest, near-zero 12-liter truck available.
When near-zero emission natural gas trucks, such as AJR Trucking's, are fueled by renewable natural gas, greenhouse gas (GHG) emissions can be reduced by 60 to 400 percent. Already, 60 percent of natural gas fleets in California are fueled with renewable natural gas and this number is expected to climb to about 90 percent by the end of this year, according to the announcement.