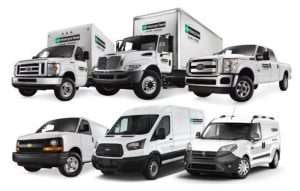 Enterprise Truck Rental continues its North American expansion with the opening of a fourth location in Colorado. The truck rental branch in Fort Collins is situated on a three-acre lot at 3321 East Mulberry St., and co-located with an Enterprise Rent-A-Car office.
The facility offers a one-stop shop for vehicle rentals to customers in the Fort Collins area, which includes parts of northern Colorado as well as southern Wyoming. The Fort Collins Enterprise Truck Rental branch is poised to support the success of area businesses, including the numerous agriculture, construction and oil and gas operations across the region, according to an announcement.
"Many successful businesses in the Fort Collins area need high-quality trucks to serve their customers properly," says Alex Coveney, Enterprise Group Truck rental manager for Colorado. "By offering a convenient solution for companies that need reliable vehicles in a pinch or during peak seasons, we enable them to avoid the expense of buying and maintaining trucks that would go unused much of the year. And we're just as prepared to meet the needs of consumers when they need a truck for personal use, too."
The Fort Collins Enterprise Truck Rental location provides access to a range of cargo vans, box trucks and tow-capable pickup trucks for both business and personal use. Enterprise is working with local service shops and other area vendors to purchase and maintain the vehicles. The new location also includes a drive-through wash and prep facility to maintain the fleet. The branch is open from 7 a.m. to 5 p.m. Monday through Friday and 9 a.m. to noon Saturday.
Opportunities for local employees
Enterprise Truck Rental's expansion is creating career opportunities throughout North America. The Enterprise Truck Rental employees in Fort Collins exemplify the career advancement opportunities available at Enterprise, according to the company.
For the past three years, Coveney has served as the group truck rental manager for Colorado. His Fort Collins team includes three employees who were recently promoted from local Enterprise Rent-A-Car branch offices. Coveney expects to hire eight to 10 additional employees to support the Fort Collins Truck Rental operation within the next 12 months.
Like Coveney, the Fort Collins Truck Rental team all started in the Enterprise Rent-A-Car Management Training Program, which teaches management trainees how to run a business, empower teams and provide excellent face-to-face customer service.
Enterprise's promote-from-within culture encourages success among employees, allowing them to move up quickly based on their performance and work ethic. And with a breadth of job opportunities and business functions, Enterprise offers employees the opportunity to change careers without changing companies.
Growth fueled by customer service
As part of its ongoing expansion, Enterprise Truck Rental opened 40 new U.S. locations in 2017. The business is on track to open an additional 40 locations across the U.S. this year. So far, these include new offices in California, Florida, Georgia, Illinois, Kansas, Kentucky, Maine, Michigan, Nevada, North Carolina, North Dakota, Ohio, Oregon, Pennsylvania, Tennessee, Texas, Virginia and West Virginia.
The new location openings are part of a broader growth strategy to increase Enterprise Truck Rental's North American presence, particularly in highly visible areas. Over the past decade, Enterprise Truck Rental has tripled its number of locations from 100 in 2007 to more than 300 today throughout the U.S., Canada and Puerto Rico, the company says.
"Our Fort Collins branch is the latest in our growing network of truck rental locations," says Mike Pugh, newly appointed corporate vice president for Enterprise Truck Rental. "And we are continuing to aggressively pursue additional expansion opportunities throughout the country."