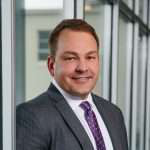 Wabash National Corporation announced Brent L. Yeagy, president and chief operating officer of the company, has assumed the role of president and CEO, effective June 2, 2018.
Yeagy follows Richard J. Giromini, who stepped down from his role as CEO on June 1 as part of a planned succession announced on Dec. 15, 2017.
"On behalf of the board of directors, I extend my sincere gratitude and admiration for Dick's many contributions in his 11 years as CEO," says Dr. Martin Jischke, chairman of the board at Wabash National. "As CEO, Dick changed Wabash National from being primarily a dry van manufacturer to the growing, diversified manufacturer it is today. The board is confident that new CEO Brent Yeagy — a talented, energetic and experienced leader — will build on the foundation Dick put in place and carry Wabash National's legacy of innovation and growth into the future."
Yeagy has been with Wabash National for more than 15 years, most recently serving as president and COO since Oct. 1, 2016. He joined Wabash National in 2003 and held a number of positions with increasing responsibility, including vice president of manufacturing, vice president and gneral manager – Commercial Trailer Products, and senior vice president and group president – Commercial Trailer Products. Prior to Wabash National, from 1999 to 2003, Yeagy held various positions within human resources, environmental engineering and safety management for Delco Remy International.
"I'm honored and humbled to be named the president and CEO of Wabash National," Yeagy says. "I'm fortunate to have spent the last 15 years at Wabash National under the leadership of Dick Giromini. He created a strong foundation.
"The next chapter at Wabash National will capitalize on the pillars Dick implemented: focus, lean manufacturing, company culture, and a strategic plan for growth and diversification. In the spirit of continuous improvement that Dick brought to Wabash National, we will now shift toward acceleration of our strategy as we look to provide greater value for all of our stakeholders."
The company says Giromini will remain with the company serving in the role of executive advisor through June 1, 2019, following which he will retire from Wabash National.