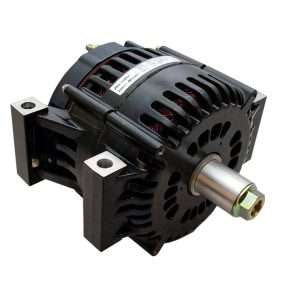 Prestolite has been awarded standard position by Blue Bird Corporation to supply IdlePro 12-volt 210-amp heavy duty alternators from Leece-Neville Heavy Duty Systems for fitment on Blue Bird school buses, beginning in July 2018.
The latest standard position announcement extends a longstanding relationship between the two companies, Prestolite says.
"Blue Bird and Prestolite have worked together for many years to develop alternators engineered to meet and exceed the school bus industry's uniquely challenging charging system requirements," says Nick Laenen, vice president, North America, South America, Australia, sales and marketing, Prestolite. "We are very pleased that Blue Bird has decided to extend this partnership and will continue to rely on Prestolite to deliver superior performance and reliability to its customers."
Previously, Blue Bird became the first OEM to adopt the IdlePro 12-volt 240-amp alternator as the standard option for its range of school buses. The company will continue to offer that model – along with IdlePro Extreme 12-volt 280- and 350-amp alternators – as upgrade options for customers in need of additional amperage. Blue Bird says customers also can choose to install Leece-Neville 4000 series alternators in 270- and 320-amp versions.
Engineered to thrive in the most extreme operating environments, IdlePro alternators from Leece-Neville offer industry-best output at low engine speeds, the company says, where school buses spend much of their working lives. Each alternator features a variety of built-in technologies designed to enhance electrical system performance and extend battery life.