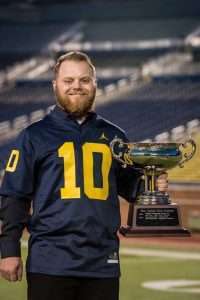 The fourth time was the charm for H.K. Truck Center technician Tracey Gennusa, who recently won first prize at the tenth annual Hino Master Elite Service Skills Competition.
Hino Trucks' Master Elite Service Skills Competition is designed to highlight the hard work and dedication of Hino technicians across the country. Only 24 finalists qualify to compete each year. As a Hino Master Elite Technician, a designation reserved for the highest certified Hino truck technician, Gennusa had to complete one of the industry's most comprehensive training programs just to be eligible for the contest.
He says the event was as challenging and rewarding as one could expect from a national competition.
"From Rapid Evaluation Diagnostics to a written test, everything was extremely detailed and timed, so I felt up against the clock. When I heard them announce the winners, they started at tenth place and went up to first," says Gennusa, who has been with H.K. Truck Center for eight years. "By the time they got to second place, I thought for sure I hadn't even placed in the top 10. When they called me as the first-place winner, I was in shock." 
He adds, "I would like to thank Hino for the opportunity to compete in this great event. This event shows how dedicated Hino is to high quality service. I also would like to thank H.K. Truck Center for providing me with the job and rigorous training required to be a Hino mechanic and a shop foreman. I would not have won this award without their support."
"To have the top Hino technician in the nation working in our shop is such an honor," adds Henry Knabe, Jr., president of H.K. Truck Center. "We became a Certified Ultimate Hino Dealership in 2017. After that, I thought I couldn't be more proud of my team, until today."