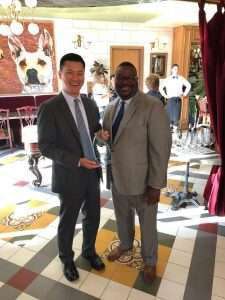 The California Natural Gas Vehicle Coalition (CNGVC) recognized Agility Fuel Solutions as its NGV Innovator of the Year last month during its annual meeting in Sacramento, Calif.  The award was presented by CNGVC President Thomas Lawson to Seung Baik, Agility's chief legal officer and head of government relations.
CNGVC's Innovator of the Year award recognizes companies within the natural gas vehicle industry that have gone above and beyond in driving innovation to make the transition to natural gas vehicles as easy as possible for fleets, according to an announcement. Agility was presented with this year's award in recognition of Agility's development of Blue iQ in partnership with Cummins.
Blue iQ is an integration between Agility's compressed natural gas storage and delivery systems and Cummins-Westport natural gas engines that enable a number of market-leading performance, diagnostics and telematics features to improve the performance and serviceability of CNG vehicles.
"Agility is honored to be recognized for our commitment to innovation. We believe that natural gas vehicles are a key contributor to the decarbonization of transportation and reduction of air pollution in California from trucks and buses. Blue iQ is one way we are accelerating the switch to natural gas vehicles," says Baik.
"It's not enough to force fleets to transition from one fuel to another; the transition can be complex. Agility's work on Blue iQ is an example of companies using technology to make the transition to natural gas an easy choice for fleets," says Lawson. "Companies like Agility should be rewarded and supported by incentive programs that target air quality improvements in California. Their work on Blue iQ is a great example of companies leveraging innovation to make it easier for fleets to make the transition from diesel to cleaner fuels like natural gas."