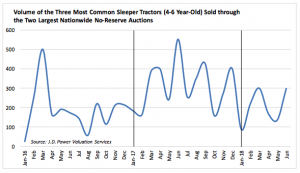 The volume of used Class 8 sleepers sold at auction leaped upward in June but still remained below demand thresholds as prices were stable across the industry, J.D. Power writes in this month's Commercial Truck Guidelines market update report. Prices were mostly stable in the retail market as well, though volume was down.
In the auction market, J.D. Power writes the volume of the three most popular sleeper tractors sold through the two largest nationwide auction companies more than doubled month-over-month in June. The increase only moves the volume total back to the levels seen in March, but J.D. Power states the 121 percent increase does return the market to levels "more in line with expectations."
J.D. Power states prices in its used auction benchmark model were mixed, with model year (MY) 2015 trucks averaging $41,250, $1,750 (4.1 percent) lower than May; MY 2014 trucks averaging $37,500, $1,500 (4.2 percent) higher than May; MY 2013 trucks averaging $28,850, $1,650 (5.4 percent) lower than May; MY 2012 trucks averaging $25,800, $50 (0.2 percent) higher than May; MY 2011 trucks averaging $20,500, $250 (1.2 percent) higher than May. On a year-over-year basis, J.D. Power states 4- to 6-year-old trucks sold in the first six months of 2018 showed a price increase of 19 percent versus the same six months of 2017.
"Demand still outpaces supply in the late-model, low-mileage segment," J.D. Power writes. "In the upcoming months, fleets will take delivery of additional trucks, and trade activity will increase. Market dynamics will start to look more normal."
The Class 8 retail market saw lower volumes in June though prices remained mostly unchanged to down slightly. J.D. Power writes "volume remained subdued as fleets kept their lower-mileage trucks in service rather than trading them in as expected."
New, low-mileage trucks that are available, however, are bringing strong money.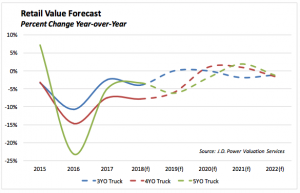 The average sleeper retailed in May was 81 months old, had 448,612 miles and brought $53,062. Compared to the previous month, the sleeper was identical in age, had 11,125 (2.4 percent) fewer miles and brought $3,763 (7.6 percent) more money. Compared to May 2017, this average sleeper was nine months older, had 2,088 more miles (0.5 percent) more miles and brought $4,294 (8.8 percent) more money.
In the most popular three- to five-year-old cohort, J.D. Power states average prices last month were as follows:
MY 2016: $75,161, $3,506 (4.5 percent) lower than April
MY 2015: $66,167, $2,481 (3.9 percent) higher than April
MY 2014: $48,939, $1,944 (4.1 percent) higher than April
J.D. Power states late-model trucks sold in the first five months of 2018 brought 4.5 percent more money than in the same period of 2017.
The biggest issue in the retail market was movement. J.D. Power states volume was down across the board. Sales per dealership slipped by 0.8 units to 4.1 units in May. This is the lowest result since December 2015. As for why, J.D. Power writes "fleets need all the trucks they can get to move freight and compensate for the impact of the ELD mandate, so trucks that would otherwise have been traded in are being kept in service. We expect retail volume to increase incrementally in upcoming months to commensurate with supply."
The booming new truck market also will soon add to used vehicle supply.
Additionally, the medium-duty market saw similar ages and pricing in May. J.D. Power states May's average Class 3-4 cabover price was $14,613, which is $205 higher than April. The Class 4 conventional price was $18,012 and $775 higher than April; the Class 6 conventional average was $20,712, which was $1,149 higher than April — and $5,501 higher than an "unusually low May 2017."
Overall, J.D. Power writes June's auction volume was "closer to expectations than recent months. Historical delivery patterns and the massive increase in new truck orders continue to point to increase supply.
"In the second half of the year, OEMs will gradually iron out component shortages and increase delivery of new trucks. Trades will return to a more typical level."