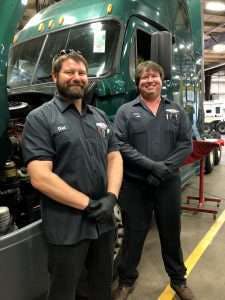 Two Fyda Freightliner Columbus diesel technicians will participate in the 2018 Daimler Trucks North America (DTNA) Technician Skills Competition regionals, the company announced Monday.
Brothers Chad and Jason Britton were two of four Columbus technicians who completed the initial written test to enter the competition on June 11. They were selected as two of only 30 technicians nationwide (15 Detroit DD engine and 15 Freightliner Cascadia vehicle) to move on to the DTNA regional competition from Aug. 7-9, 2018, in Cleveland, N.C.
The competition is held to recognize and reward top-performing service technicians across all Detroit Engine and Freightliner Cascadia vehicle distributors and dealers. It was started by DTNA because the company realizes that vehicle uptime is critical to its customers and technician skill is the most important factor during service. Recognizing the country's top diesel technicians is an important way to encourage and recognize their hard work and achievement within the industry, the company states.
A total of 12 technicians (six Detroit DD Engine and six Freightliner Cascadia vehicle) will be selected from regional competition participants to move forward to the final competition at DTNA's corporate headquarters in September in Portland, Ore.
During the final event, DTNA states participants will compete in a one-day competition, visit local Portland sites, tour corporate facilities, receive educational training, and be given a formal awards dinner. Daimler will assist with travel expenses, and winning technicians will receive substantial prizes for their hard work and dedication.