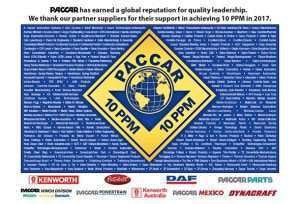 Michelin North America Inc. is a recipient of Paccar's 2017 "10 PPM Supplier Quality" award for outstanding commitment to quality, according to an announcement. The award was presented recently to Michelin by Gary Safsten, Paccar assistant director of supplier quality, at Michelin North America's headquarters in Greenville, S.C. Michelin supplies Paccar with a range of commercial-truck tires for Paccar's Peterbilt and Kenworth brands.
"At Michelin, we take pride in providing the highest quality commercial-truck tires to our customers," says Scott Clark, chairman and president at Michelin North America. "On behalf of the entire Michelin team, we are pleased to be recognized this year by Paccar for our approach to quality, delivery and customer service. The award is a reflection of our ongoing commitment to provide outstanding customer service that matches the quality of our products."
The award is presented to Paccar suppliers who meet or exceed Paccar's "10 PPM" quality standard. To be recognized, a supplier must operate near perfection — 10 or fewer defective parts for every million parts shipped to Paccar. The suppliers must also meet performance criteria for on-time delivery and support of Paccar's operating divisions and their customers. The award also takes into consideration final customer satisfaction.
"Paccar is a leader in quality and technology. With trucking being the lifeblood of the economy, our suppliers must share our cornerstone belief in quality and innovation," says Debbie Poppas, Paccar vice president of supplier quality. "Michelin is in an elite group of three tire suppliers that met our stringent PPM goal. Michelin North America achieved zero defects and was recognized along with Michelin South America."