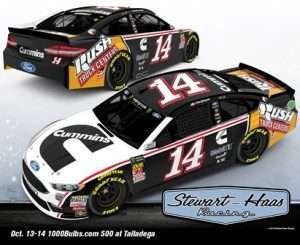 Cummins Inc. is returning to motorsports with Stewart-Haas Racing (SHR), the championship-winning NASCAR team.
Cummins will debut on the No. 14 Ford Fusion of driver Clint Bowyer in the Aug. 18 Monster Energy NASCAR Cup Series race at Bristol (Tenn.) Motor Speedway, sharing the primary sponsorship with Rush Truck Centers, the premier solutions provider for the commercial vehicle industry. Cummins will return to the No. 14 Ford for the Oct. 14 race at Talladega (Ala.) Superspeedway.
Cummins has a motorsports lineage dating back to the inaugural Indianapolis 500 in 1911 when company founder Clessie Cummins was on the pit crew of the race-winning Marmon Wasp of driver Ray Harroun.
"Cummins is a global brand and category leader and we're very proud to have them back in racing," says Mike Verlander, vice president of sales and marketing at SHR. "It's a win for our industry and a win for Stewart-Haas Racing."
While Cummins is a corporation of complementary business segments that design, manufacture, distribute and service a broad portfolio of power solutions, it is best known for its diesel truck engines.
"Cummins has a nearly 100-year commitment of developing innovative technologies that enable our customers' success," says Amy Boerger, vice president of sales at Cummins. "We are pleased to partner with Stewart-Haas Racing, a company that shares this deep commitment to innovation and success, as we add another chapter to our rich heritage in auto racing. Personally, I cannot wait to see the Cummins brand back on the racetrack with Clint Bowyer and the No. 14 team."
"Our relationship with Stewart-Haas Racing has provided the opportunity for us to strengthen business relationships with our suppliers, and this partnership with Cummins is an excellent example," adds W.M. "Rusty" Rush, chairman, president and CEO at Rush Enterprises. "This is why our presence in NASCAR makes so much sense. We're able to align our core objectives with companies like Cummins and ExxonMobil, where wins on the racetrack are accompanied by wins in the marketplace."
Tony Stewart, who co-owns SHR with Haas Automation founder Gene Haas, is a native of Columbus, Indiana, the global headquarters for Cummins.
"For as long as I can remember, Cummins and motorsports were one in the same," says Stewart, the three-time NASCAR Cup Series champion, 1997 IndyCar Series champion and four-time USAC champion. "Cummins always had a presence in the Indianapolis 500 and I remember seeing their logo in NASCAR for years with Mark Martin.
"To be able to team up with a hometown company and help Cummins grow its business with another SHR partner in Rush Truck Centers is something I take a lot of personal pride in. I know what winning feels like as a driver, but this is what winning feels like when you're a team owner."